Athleticism meets Artistry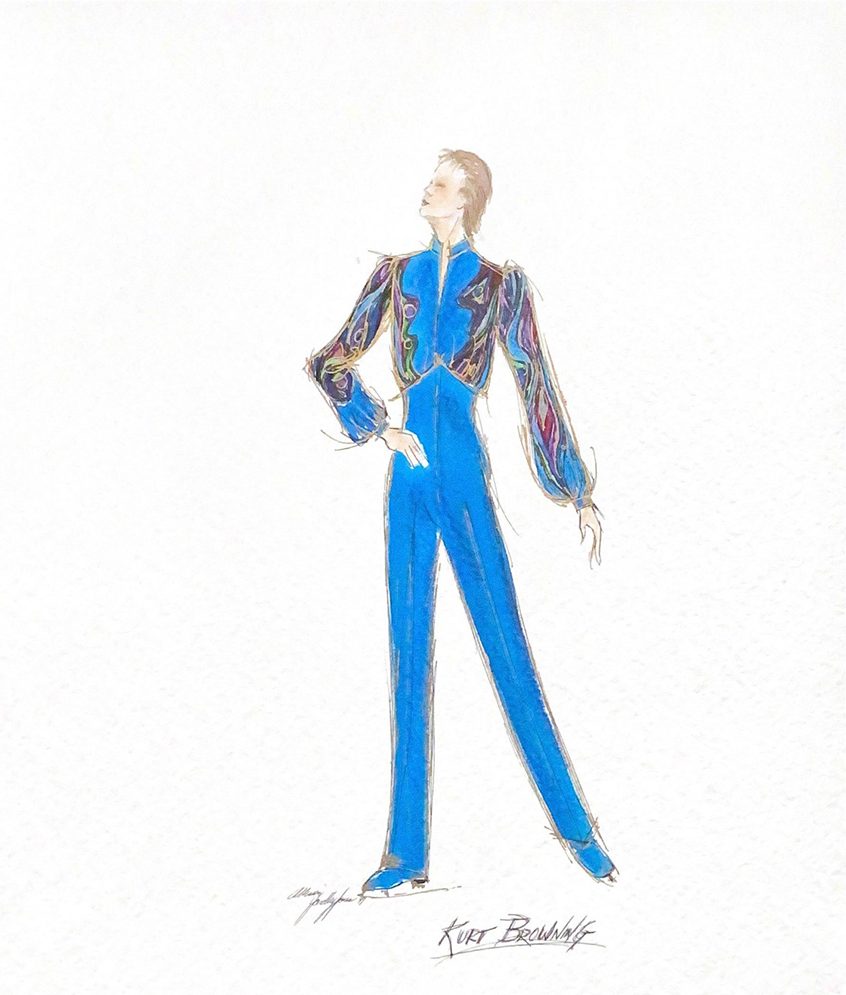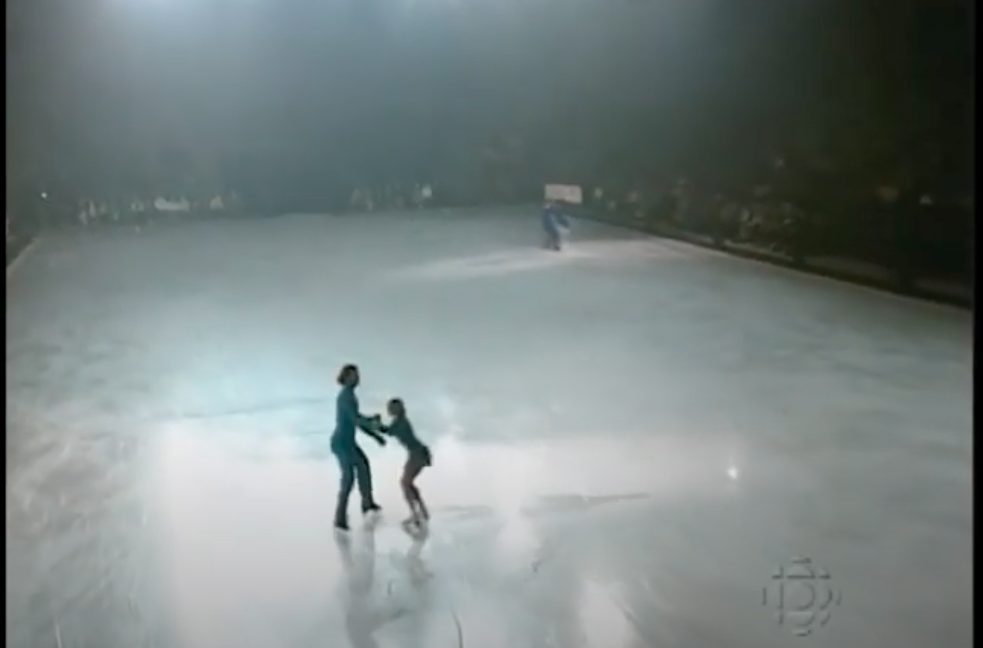 We have detected that your Javascript is disabled. We're sorry, the videos are not available without javascript.
Two Olympic pair champions, Canadians Salé and Pelletier in blue costumes and Russians Berezhnaya and Sikharulidze in turquoise costumes, do complex footwork, jump, and skate covering both ends of the ice. At the end, the teams meet at centre ice stopping just in time with a dramatic parallel stop move.
Transcript:
[Music: "Sing, Sing, Sing (Part II)" by Scott Wise & Eugene Fleming & Fosse Orchestra & Patrick S. Brady, upbeat instrumental jazz style music]
[applause]
By the 1990s, 44 million viewers across the globe were watching figure skating. Figure skaters became larger-than-life personalities. Drama on the ice catapulted the sport into the popular news as several scandals played out during competition in this period. 
Tensions were high at the 1988 Calgary Olympics. Canadian Brian Orser and American Brian Boitano were both slated to win gold. The "Battle of the Brians" played out on the ice as the world waited to see who would ultimately seize the title. A few years later, the explosive scandal between Nancy Kerrigan and Tonya Harding in 1994 created a media circus. The scandal would later be immortalized in the film I, Tonya (2017). And finally, during the 2002 Salt Lake City Olympics, Canadian pair skaters Jamie Salé and David Pelletier and Russian pair skaters Elena Berezhnaya and Anton Sikharulidze were at the centre of a judging controversy.
The Canadian Figure Skating Association (CSFA) changed its name to Skate Canada in 2000. The very word that had defined the sport—"figure"—disappeared completely from the name. 
Canadian skaters excelled in international competitions during this period, winning gold in all categories except for women's singles. Kurt Browning was the first Canadian to land a quadruple toe-loop jump, at the 1988 World Championships in Hungary. Browning is also the only skater to have won Worlds both with and without the figure category. He won two World competitions when the figure component was still included (1989, 1990) and two Worlds after figures were eliminated (1991, 1993).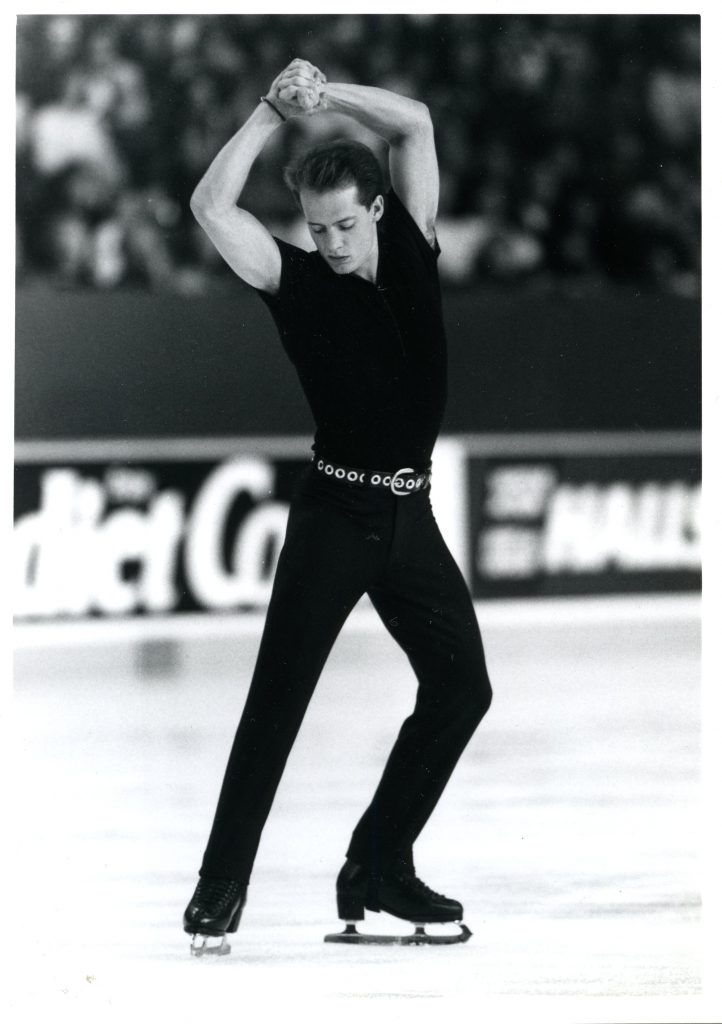 In 1990, the International Skating Union (ISU) lifted restrictions on amateur-status rules. Amateurs could now be paid and not lose their amateur status so they could continue to compete. Amateur skaters performed alongside professional skaters and earned money in ice shows.
Skaters became consummate entertainers. New touring and televised shows like Stars on Ice and Champions on Ice captivated audiences. Canadian figure skaters lent their talents to these productions.
CANADIAN GOLD CHAMPIONS ON THE WORLD STAGE!
Brian Orser: 1987 World Champion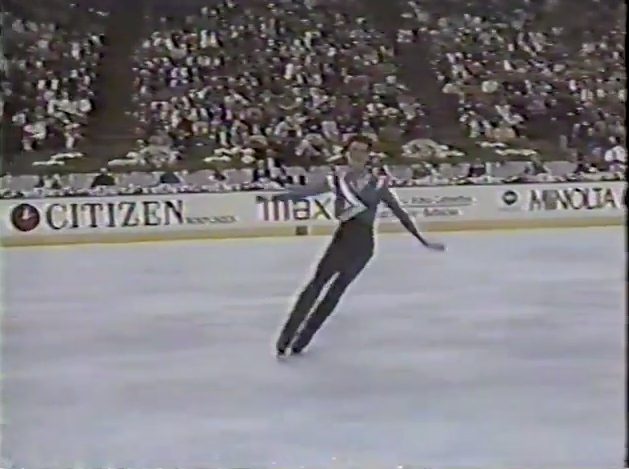 We have detected that your Javascript is disabled. We're sorry, the videos are not available without javascript.
Brian Orser, in a black, grey, and silver costume starts from a standing position, does a series of foot movements from one toe pick to the other, and then speedily skates around the ice performing a triple lutz.
He ends with a triple Axel and toe loop combination jump.
The arena is filled with cheering spectators.
Transcript:
[Music: "Main Title" by Andrew Powell & The Philharmonia Orchestra]
[applause]
Kurt Browning: 1989, 1990, 1991, 1993 World Champion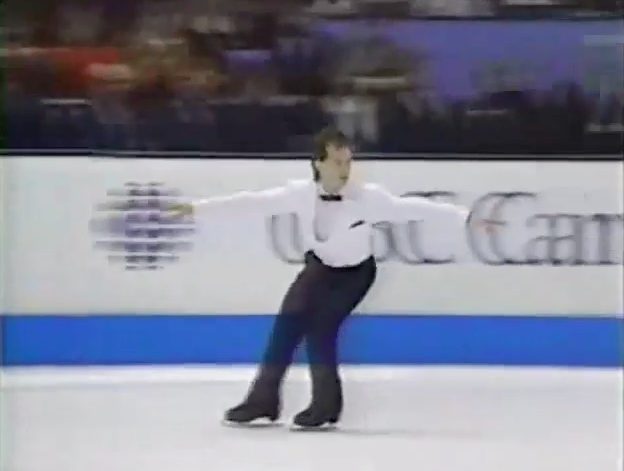 We have detected that your Javascript is disabled. We're sorry, the videos are not available without javascript.
Kurt Browning, in a formal black and white suit costume with a black bow tie and handkerchief gracefully skates, performing a split jump, footwork of turns in one direction and then a combination triple Salchow-double-loop jump.
A flying camel spin and a short twirl at the end.
Spectators watch in the background.
Transcript:
[Music: From the movie "Casablanca" score by Max Steiner, dramatic orchestra music]
Elvis Stojko: 1994, 1995, 1997 World Champion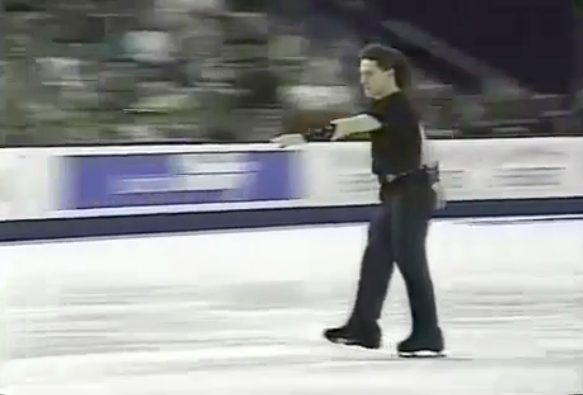 We have detected that your Javascript is disabled. We're sorry, the videos are not available without javascript.
Elvis Stojko, in a black short sleeve, fitted top with leather armbands performs a quadruple toe loop followed immediately with a triple toe loop jump while an audience applauds in the background.
He continues with footwork, then a flying layover camel spin, and more footwork.
Transcript:
[Music: Dragonheart soundtrack by Randy Edelman: dramatic instrumental music]
[applause throughout]
Let the jump fest begin!
Elvis Stojko's attempt at the quadruple toe loop.
Oh! Triple toe loop! That's the best one I've ever seen!
It was the cleanest, it really was.
Isabelle Brasseur and Lloyd Eisler: 1993 World Champions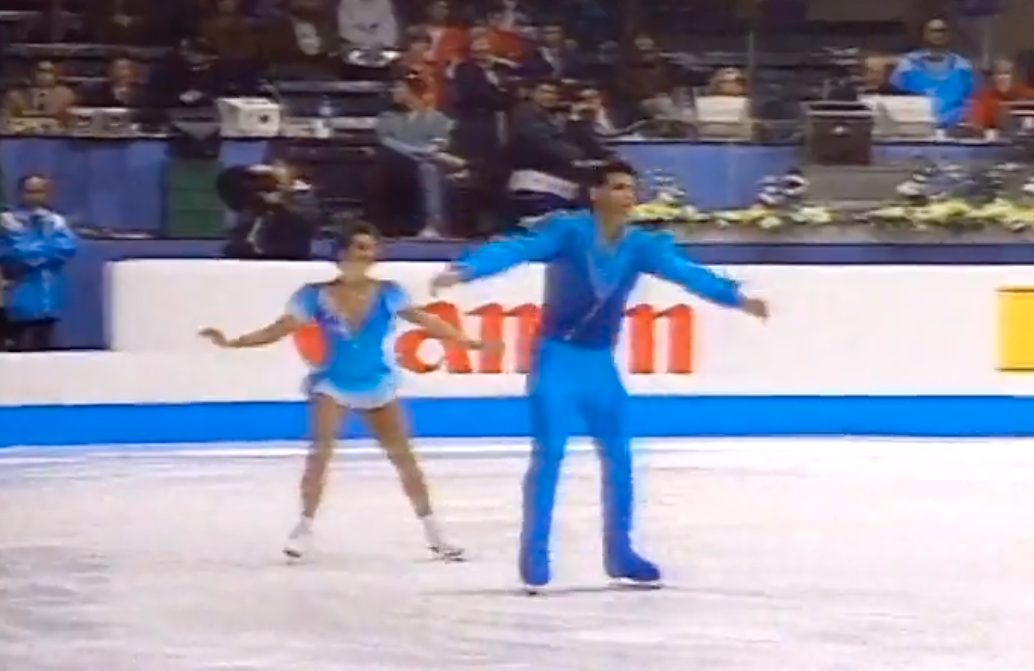 We have detected that your Javascript is disabled. We're sorry, the videos are not available without javascript.
Pair skaters, Brasseur and Eisler, in coordinating bright blue and white costumes, skate in unison around the ice [and perform various lifts and side-by-side double Axels.
They finish with a throw triple twist lift.
The arena is filled with spectators.
Transcript:
[Music: "Notre Dame-Intermezzo" by Berliner Philharmoniker & Herbert Von Karajan"]
[applause]
[applause]
Jamie Salé and David Pelletier: 2001 World Champions, 2002 Olympic Champions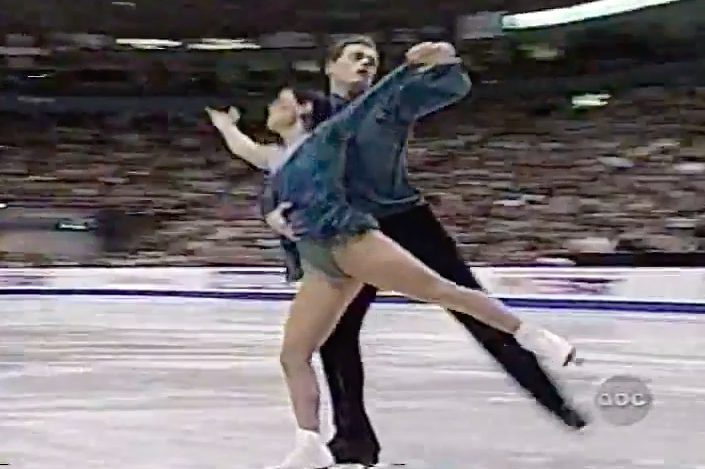 We have detected that your Javascript is disabled. We're sorry, the videos are not available without javascript.
Salé and Pelletier, pair skaters, dressed in dusty blue costumes, both skate backwards, hand in hand.
They perform intricate no-hand spinning overhead lifts and then side-by-side flying sit spins in unison.
Footwork sequence follows and then a deep inside-edge death spiral.
An audience applauds in the stands behind them.
Transcript:
[Music: Wagner's opera "Tristan und Isolde by Nadja Salerno-Sonnenberg]
[applause throughout]
Shae-Lynn Bourne and Victor Kraatz: 2003 World Champions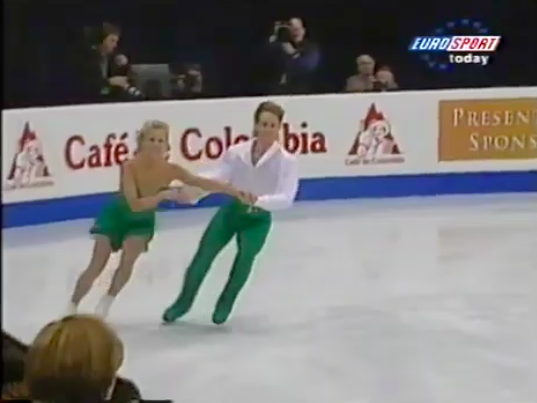 We have detected that your Javascript is disabled. We're sorry, the videos are not available without javascript.
Shae-Lynn Bourne & Viktor Kraatz, ice dance skaters, in bright green and white costumes, energetically dance and skate around the ice to upbeat percussion-heavy music in an arena filled with spectators.
Their footwork sequences are very complex.
Transcript:
[Music: lively music modeled after Riverdance]
[applause throughout]
What Winter Olympic skating event has never been won by a Canadian?
What Winter Olympic skating event has never been won by a Canadian?
Canadian Skate Boots
John Knebli, custom bootmaker, was convinced that Brian Orser would win gold at the 1988 Olympics. He made Orser a custom pair of boots with a gold coin in the heel. Although Orser did not seize the coveted gold medal, he won silver. Canadian John Knebli continued to make custom boots for skaters around the world until his death in 1997 at age 92. 
Canadian company Tournament Sports Inc. acquired Donald Jackson Skate Products in 1986. They continued the Jackson tradition of importing boots from Czechoslovakia. In 1996, the company opened a state-of-the-art skate-boot factory in Kitchener, Ontario, where they started developing a new boot using new technologies and alternate materials. For the top skaters, the company sourced blades for their boots from John Wilson and MK Blades. 
In 2001, Tournament Sports acquired the American brand Ultima Skates. They used Ultima's blade designs for five to six years before creating their own. Tournament Sports soon debuted their "complete outfit" for skaters. This new skate featured a combined boot and blade, both made in-house. These new boot-and-blade sets were called the "Jackson Ultima". The Jackson Ultima remains a favoured skate among competitive skaters. In 2003, the company began to use Softec technology to create boots, which gave athletes and leisure skaters alike a more comfortable synthetic boot option.
For the recreational skater, Canada's Canstar Sports manufactured molded skates. Canstar brands included Bauer, Lange and Daoust.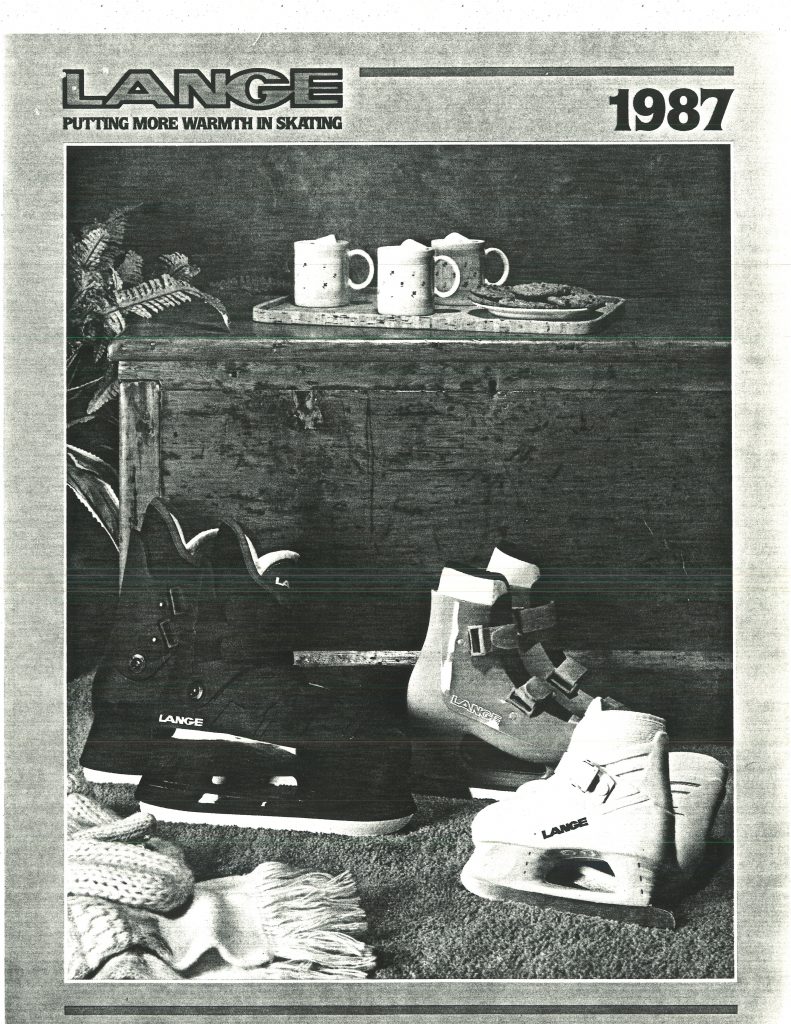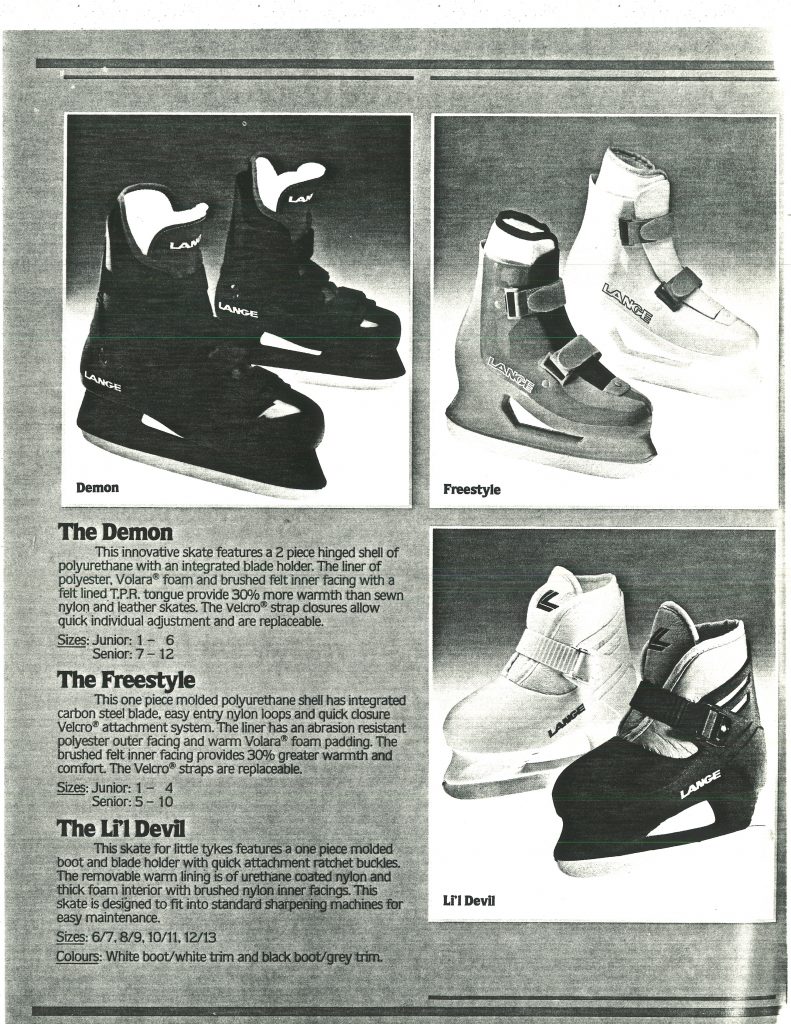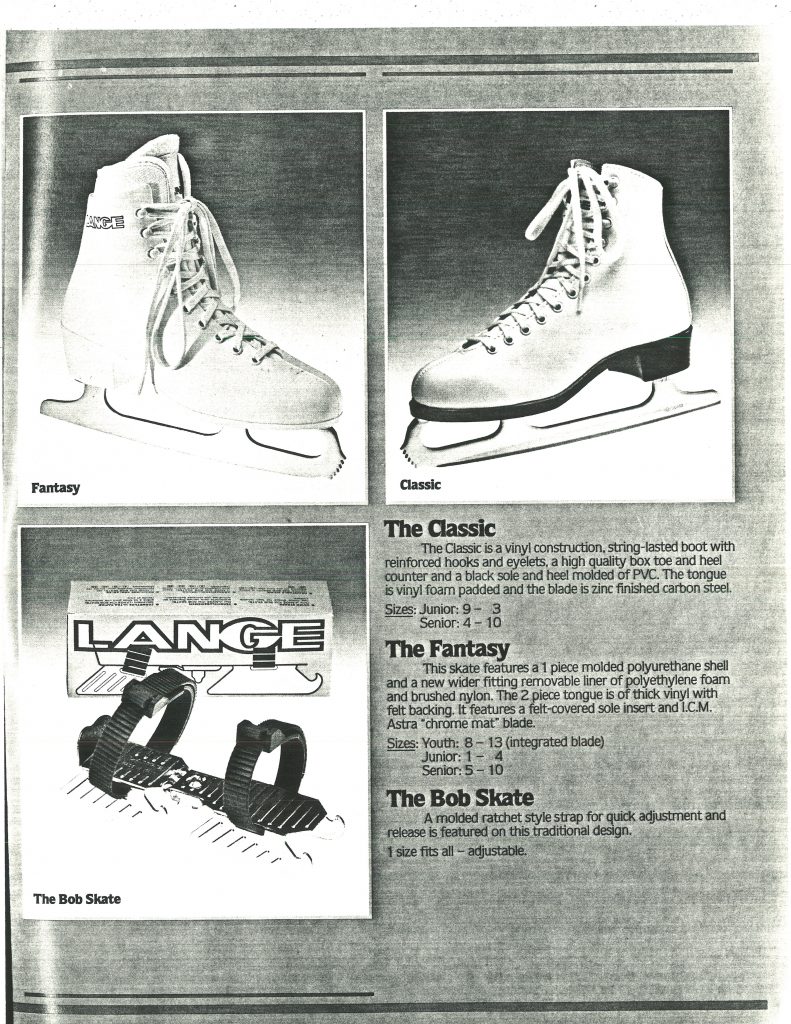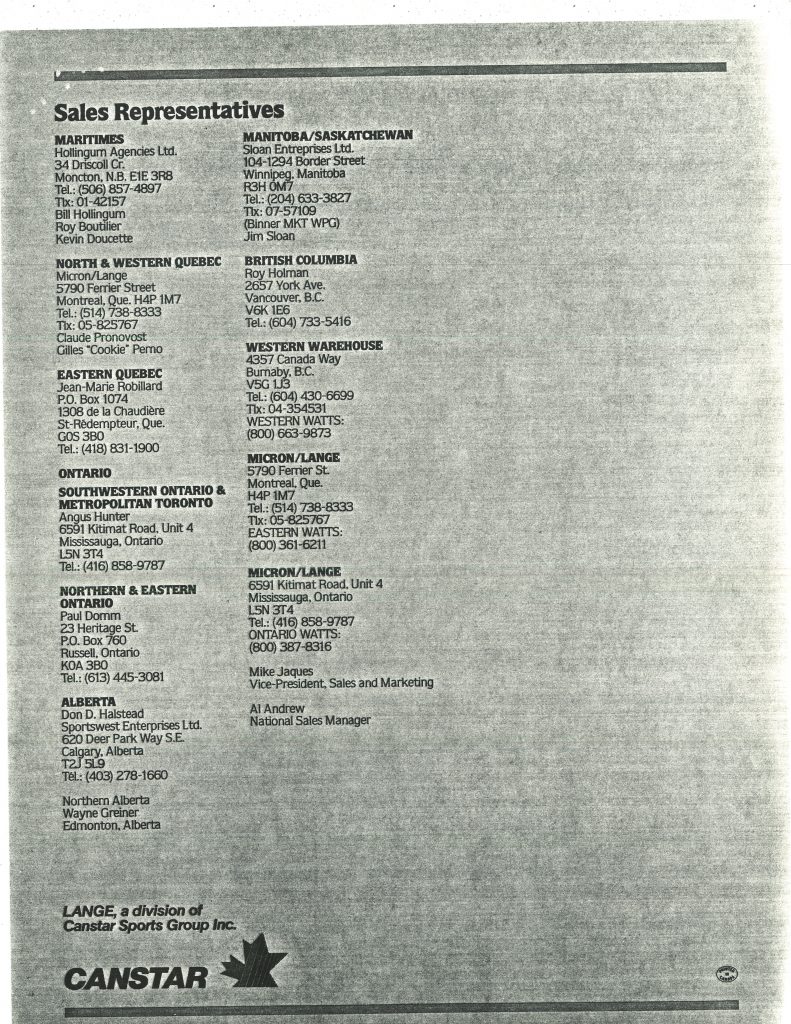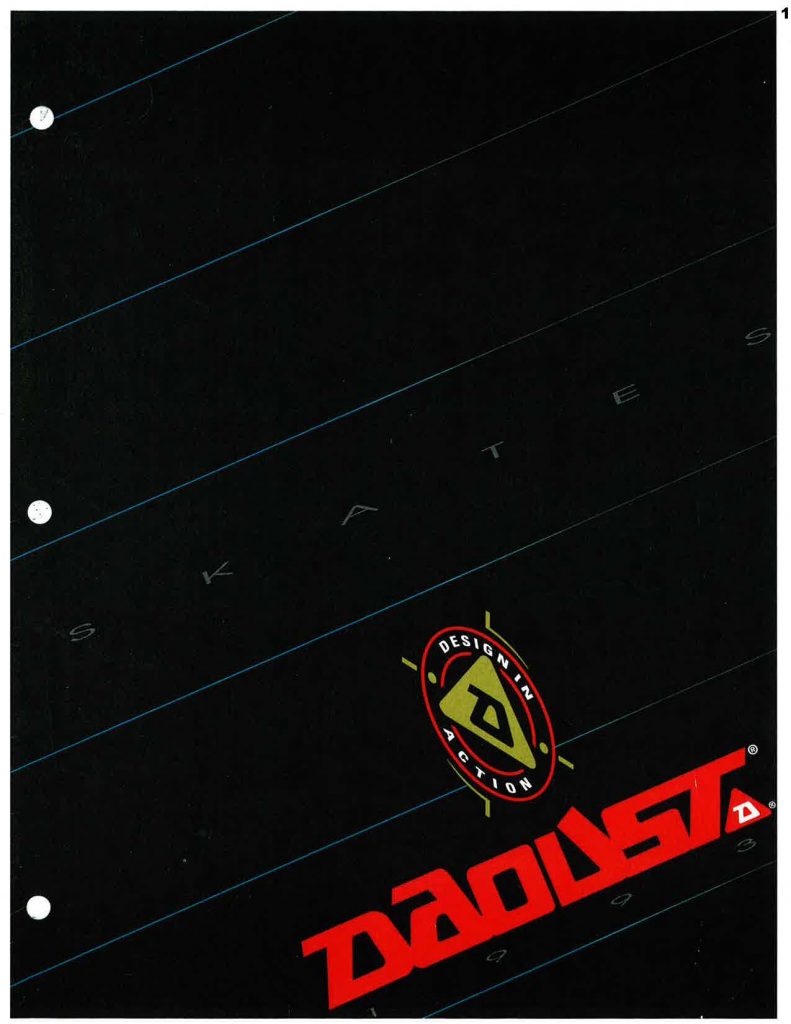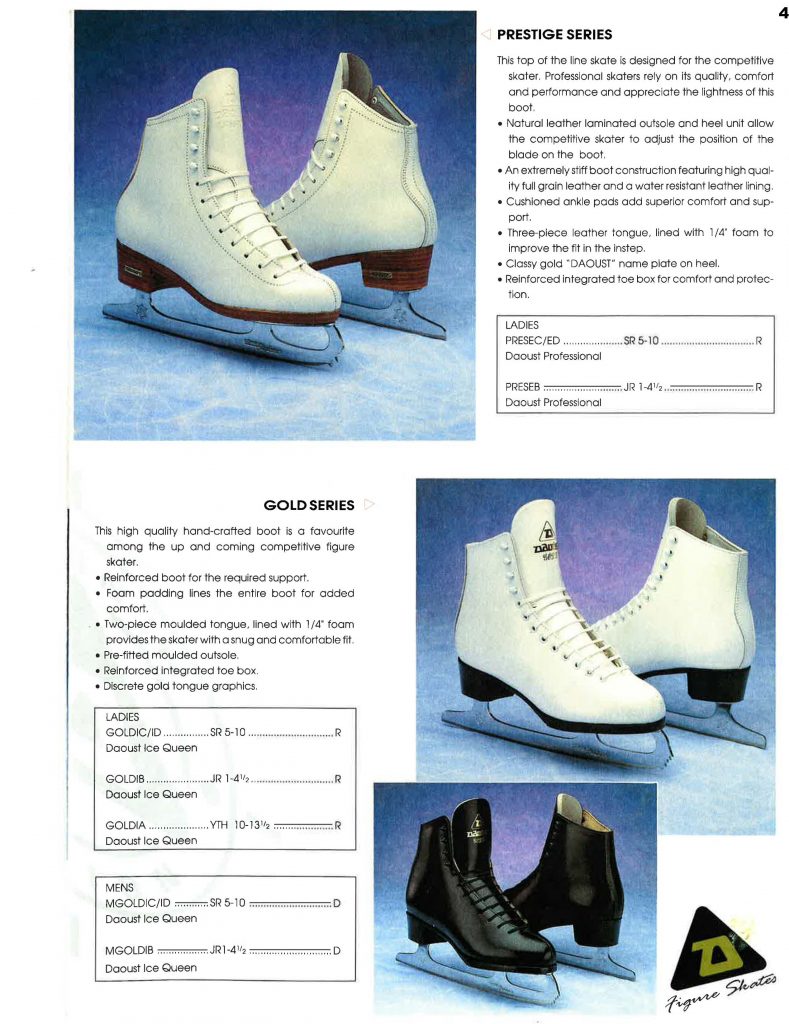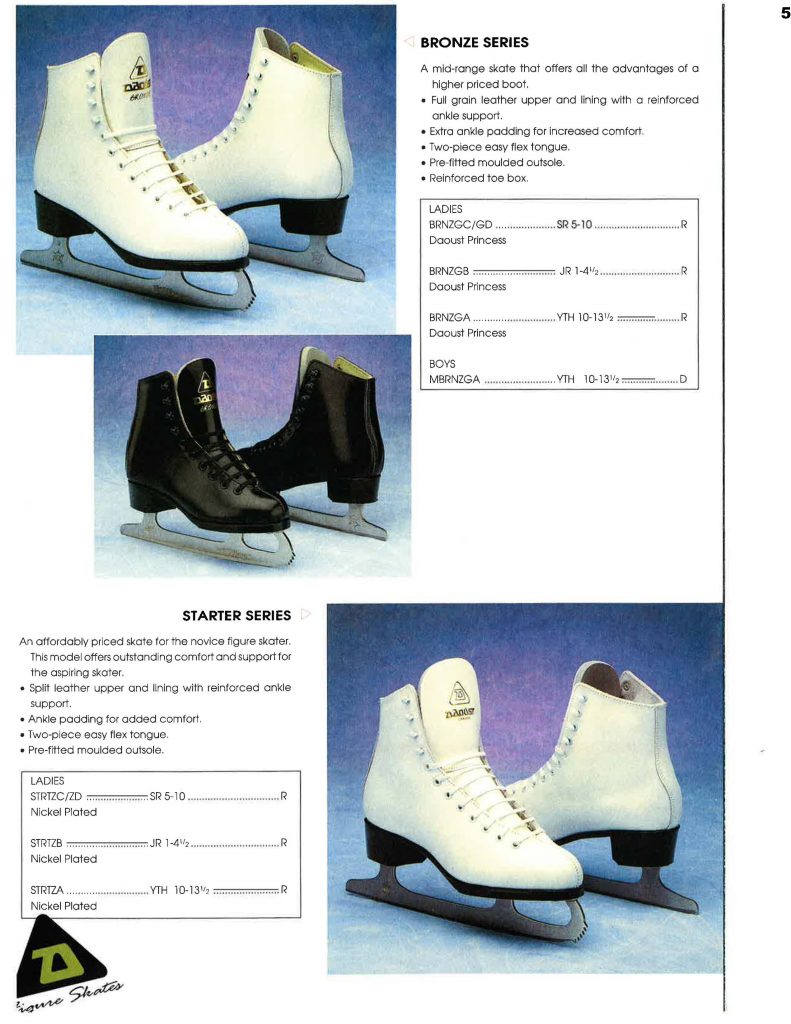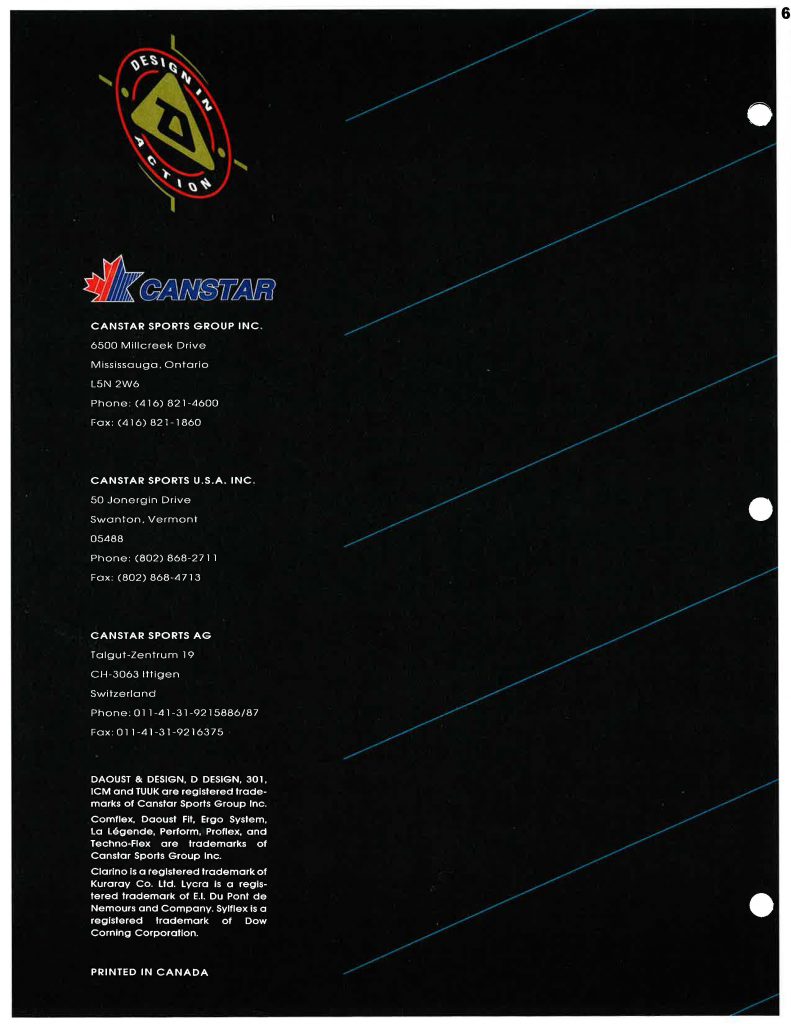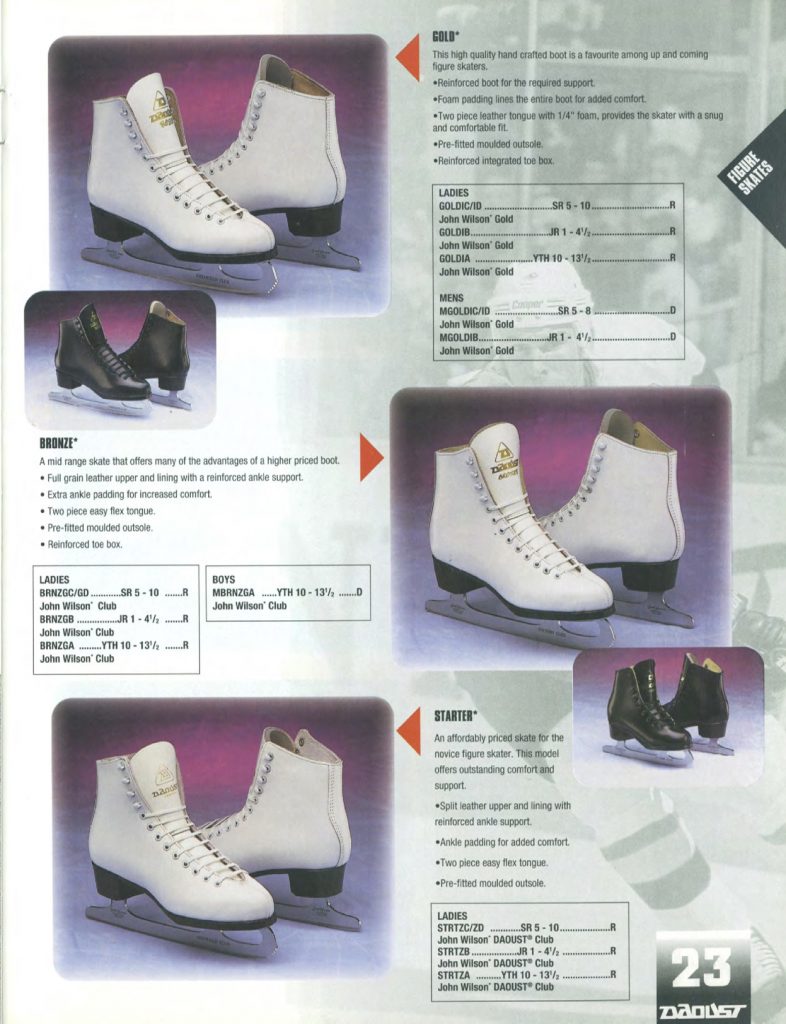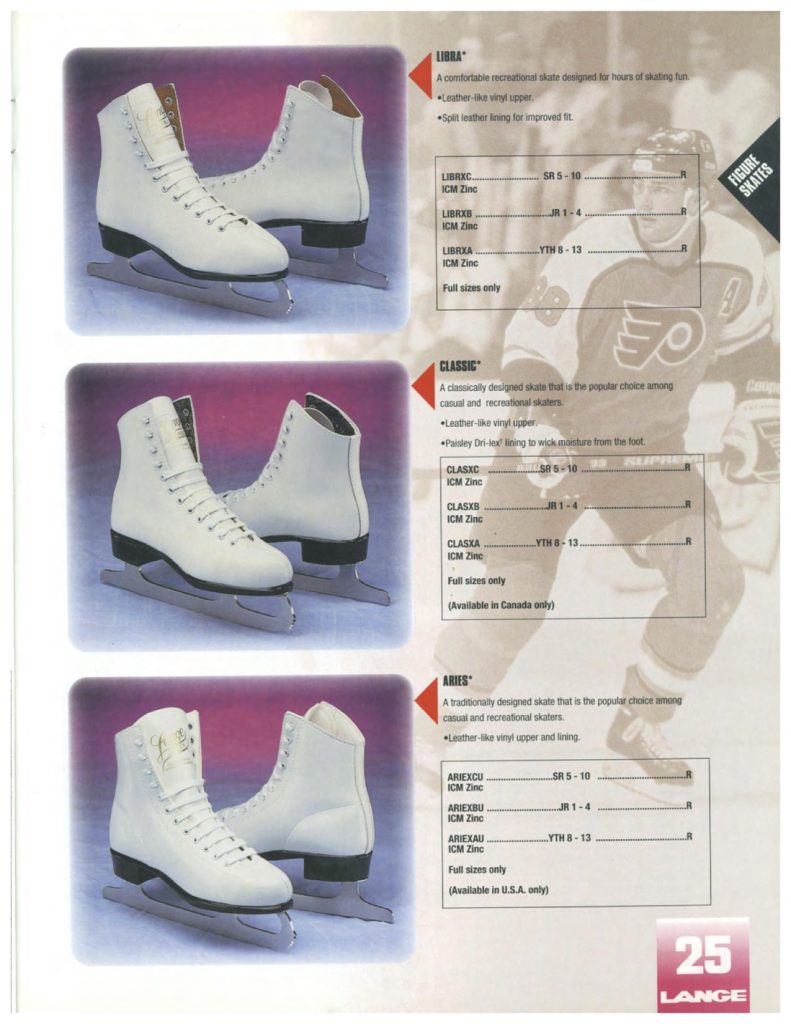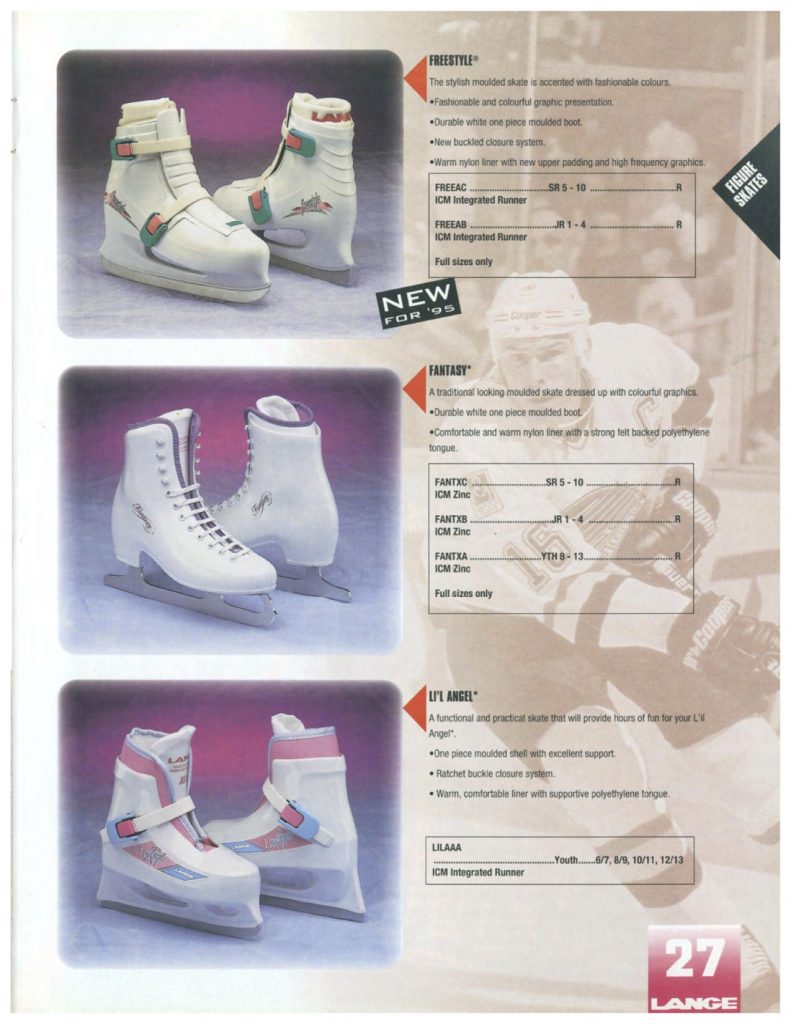 Mixing and Matching Brands
The top choice for skaters until this point was custom-made boots and imported blades. No longer. With a choice of brands, boots and blades were now mixed and matched. Examples of other boot manufacturers used by Canadian competitive skaters include: Risport (Italian), Edea (Italian), Harlick (American), and WIFA (Austrian). Riedell (American) makes a complete skate (boot and blade together) just like Canada's Jackson Ultima manufacturing. Two British blade manufacturers offered the best blades for competition: MK and John Wilson.
For several years early in his career Kurt Browning, who was the first to land a quadruple jump, had difficulty with his skating boots. Browning wore WIFA and Harlick boot brands, which are top-grade bootmakers; however, he needed something additional to assist him with the technical advances he was creating on the ice. Attila Racz, a specialist in skate sharpening in Alberta, developed a customized insole for Browning, which offered better and stronger support at the foot bed.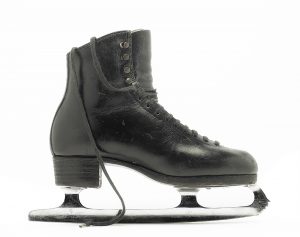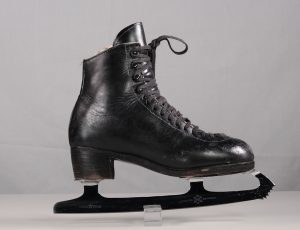 Attila Racz licenced a Canadian branch of Switzerland's Graf International Ltd. in 1997, which allowed him to manufacture figure and hockey skates in Calgary under the Graf label. With his technical skill and knowledge of figure skaters' needs, the business was successful, and he became the president of production for Canada.
Graf's system for bootmaking combined the traditional handmade bootmaking system with new technology for lasts and materials. Graf developed a thermal fabric that is heat-sensitive and moulds to the shape of the foot.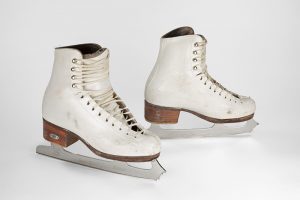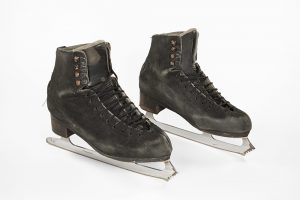 Who were the first Canadians to win the ice dancing World Championship?
Who were the first Canadians to win the ice dancing World Championship?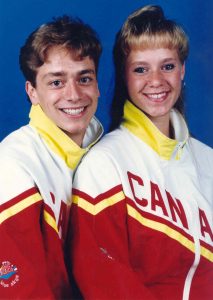 Shae-Lynn Bourne and Victor Kraatz in 2003.
Figures Out and Free Skating In
Compulsory figures were eliminated from competitions in 1990. Single skaters now performed a short and a long program only. The short program was worth 40% of a skater's mark and consisted of required elements. The long program could be more experimental. The single and double jumps of the 1930s, 1940s, and 1950s evolved to double and triple jumps in the 1960s, 1970s, and 1980s. By the 1990s, quadruple jumps became part of the free-skating repertoire. 
Pair skaters competed in similarly weighted short and long programs. The short program was only two minutes and 40 seconds long, but here skaters could bring their artistry and technique to new heights. They performed seven required elements in the short program. These complex elements included lifts, twist lifts, solo and throw jumps, spins, death spirals, and step sequences. 
Ice dancing consisted of three components: compulsory dance, original dance, and free dance. Compulsory dances had become more theatrical in the 1970s, but in the 1980s and 1990s, the ISU pushed for a return to its ballroom dance roots. In 1988, the number of compulsory dances required in competition was reduced from three to two. By 2010, compulsory dances were eliminated.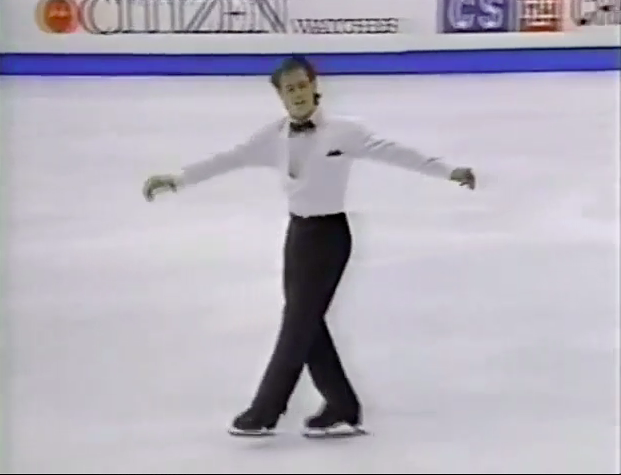 We have detected that your Javascript is disabled. We're sorry, the videos are not available without javascript.
Kurt Browning, in black pants and white short tailored jacket, white shirt and black bow tie costume, slowly and gracefully dances across the ice, imitating Humphrey Bogart in the movie "Casablanca", with music from the movie.
He mimics taking a long drag on a cigarette and then flicking it away.
He interprets the music as he skates and performs to the audience.
Transcript:
[Music: "As Time Goes By" by Herman Hupfeld, jazz]
[applause throughout]
Kurt Browning was discovered in Edmonton by the Czech-born figure skater and coach Michael Jiranek in the 1980s. Jiranek came out of retirement to coach Browning for three of his four World Championships.
Browning is a storyteller on the ice and has headlined in the Stars on Ice revue since the early 1990s. A renaissance skater, his technical and artistic abilities combine with his acting, performance, and jumping skills to completely captivate his audience.
For Browning's last Worlds performance in 1993, it was choreographer Marijane Stong's idea to use the soundtrack to the 1942 film Casablanca, and Browning channeled Humphrey Bogart in the program, even miming throwing a cigarette out onto the ice. Sandra Bezic choreographed the program. Kurt collaborated with Marijane Stong on the iconic costume design. Louis Stong was his coach for the performance.
Canada's First Gold Medal in Ice Dancing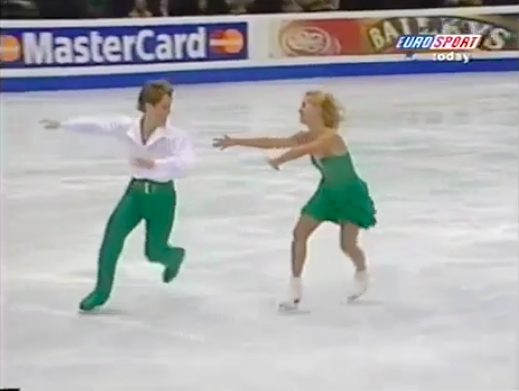 We have detected that your Javascript is disabled. We're sorry, the videos are not available without javascript.
Shae-Lynn Bourne and Viktor Kraatz, dance team, in green and white costumes, energetically dance and skate around the ice to lively music in an arena filled with spectators.
Transcript:
[Music: "Riverdance" by Bill Whelan]
Shae-Lynn Bourne and Victor Kraatz were the first Canadian ice dancers to win a gold medal in their category in 2003. Their dynamic skating and creative music choice created a stunning spectacle on the ice. 
It had been a challenge for the Canadian ice-dancing pair to seize their victory. Russian ice dancers dominated in the category from 1985 to 2000. Block judging in eastern Communist countries meant that skaters' ranks were predetermined in advance of the competition. It was extremely difficult for skaters from other countries to win. After the fall of the Iron Curtain in 1989, block judging slowly began to disappear. Soon, skaters from other countries were able to medal. 
Skategate – Controversy at the 2002 Olympics
We have detected that your Javascript is disabled. We're sorry, the videos are not available without javascript.
Salé and Pelletier, pair skaters, in casual looking black and grey costumes, perform side-by-side triple toe jumps.
They do footwork side-by-side while holding hands and then an overhead lift with a rotation on the way down.
An audience applauds in the stands.
Transcript:
[Music: "Love Story-Main Title, For Me Alone (Snow Frolic)" by London Festival Orchestra and Stanley Black, composer Francis Lai]
They're getting the triple toes right out of the way right at the beginning.
Oh, good yes!
[applause]
Pairs team Jamie Salé and David Pelletier skated to the soundtrack for the film Love Story. Marijane Stong designed the pair's monochromatic grey costumes. The audience loved their whimsical and lyrical performance.
Russian skaters Elena Berezhnaya and Anton Sikharulidze skated an exquisite program to Meditation by French composer Jules Massenet.
Although both pairs had skated in the top of their categories, Salé and Pelletier's final marks were lower. Their results outraged commentators, officials, and the public. Their performance had been as good as the Russian pair. Was the judging system biased towards Russia; was the judging system corrupt; was the competition's outcome fixed? The scandal became known as "Skategate". 
After an investigation by the International Skating Union (ISU), the Canadian pair were upgraded to gold medals, a win that they now share with the Russian pair. 
The controversy highlighted a need for a change in judging.
The Entourage
As skating became more complex and skaters needed to perfect their artistry, their look, and their acting ability as well as their skating, the need for more coaches, choreographers, and specialists emerged. Most competitive skaters had their own coach who doubled as a choreographer, but as choreography became even more integral to skating, there was a demand for specialists. Now in demand, a choreographer could make an entire career choreographing skating programs. 
Many Canadian skaters broke into the field of choreography. Lori Nichol choreographed programs for World Champion Michelle Kwan. Sandra Bezic and Sarah Kawahara have both won Emmys for their skating choreography. David Wilson began his artistic career in choreography in the 1990s. 
Choreographers chose music and designed programs for competitive skaters. At times, they also helped to design skaters' costumes. 
Coaches could now devote themselves exclusively to skating and technique. 
By the turn of the 21st century, competitive skaters relied on a full entourage of professionals. They participated in off-ice strength and dance classes, met with sport doctors and psychologists, and worked on their programs with choreographers.
Katarina Witt
Champion figure skater Katerina Witt is one of the most decorated female skaters since Sonja Henie. She used her acting abilities to create an exuberant, flirtatious performance to the music of Bizet's Carmen. Her dramatic performance drew in a captive audience. She would go on to skate in ice shows and television skating specials. She also had several cameo roles in films and television shows.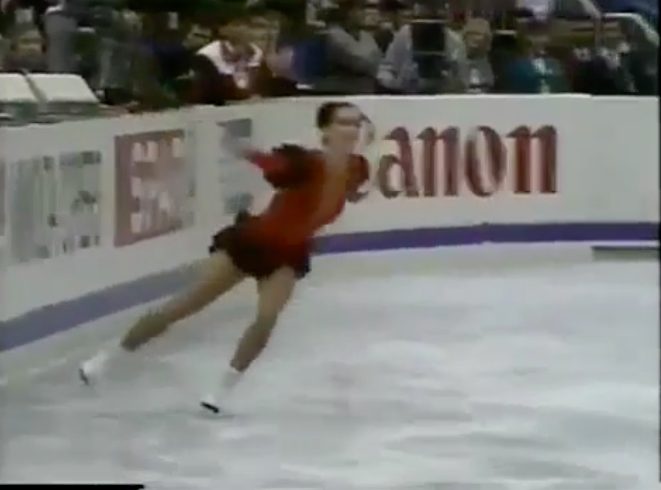 We have detected that your Javascript is disabled. We're sorry, the videos are not available without javascript.
Katarina Witt, in a black and red frilly costume, skates, does footwork and then a triple flip, double flip jump combination, followed by a triple Salchow jump. The music is Spanish themed, and castanets can be heard in the percussion. The indoor arena is filled with spectators. Transcript: [Music: George Bizet's "Carmen Suite: II. Dance" by Gennady Rozhdestvensky, Bolshoi Theatre Orchestra] [applause throughout]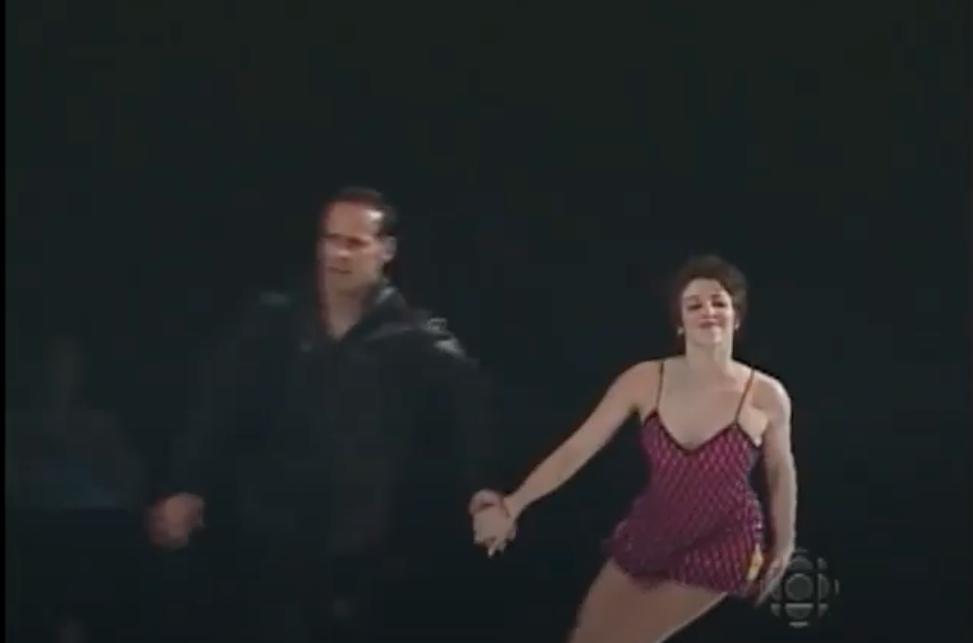 We have detected that your Javascript is disabled. We're sorry, the videos are not available without javascript.
A group of male skaters, in black costumes, and female skaters, in pink costumes, energetically skate around the ice while pink and yellow lights illuminate the arena.
Some moves are in pairs, like overhead lifts, but most are group formations.
Transcript:
[music: "I Can't Stop" by Will Smith, contemporary upbeat]
[applause throughout]
Many skaters graced international television screens in ice-show specials. Brian Orser and Katarina Witt starred in a televised production of Carmen, filmed in Spain. Elvis Stojko and Kurt Browning performed together in television specials throughout the 1990s. 
American skater Scott Hamilton founded the Stars on Ice touring show in 1986. This show was also broadcast on television. A Canadian edition of the Stars on Ice show was established in 1991, which was broadcast on television and also toured across Canada. The show featured top international skaters. Stars on Ice drew in huge audiences, and television ratings skyrocketed. 
Isabelle and Paul Duchesnay
Isabelle and her brother Paul Duchesnay were known for their artistic, avant-garde performances. Their unconventional style did not fit the mold of Canadian ice dancing and they were criticized in Canada, so they decided to make use of their dual citizenship and represent France. 
The pair would go on to secure a victory for France in the 1991 World Championships with programs choreographed by the innovative Christopher Dean. Canada would have to wait until 2003 with Bourne and Kraatz to finally seize a gold medal. 
We have detected that your Javascript is disabled. We're sorry, the videos are not available without javascript.
Dance couple Isabelle and Paul Duchesnay dressed in Latin style, she in a sleeveless dress with asymmetric hem and one above-the-elbow glove, and he in a striped jacket and flowing white silk necktie. They perform a dramatic tango dance while an audience claps in the stands. Transcript: [Music: Argentine Tango style] [applause throughout]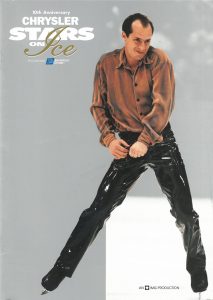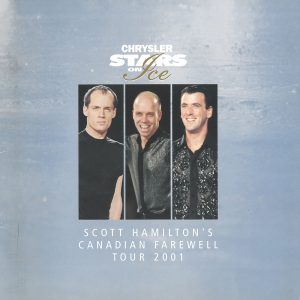 When and where were the last "compulsory figures" performed in competition?
When and where were the last "compulsory figures" performed in competition?
The last figures were performed at the World Championships in Halifax, Nova Scotia. 1990 marked the end of the requirement of "compulsory figures". 
Colourful, Creative, and Daring
Both women's and men's costumes were more daring and flashy in this period. 
In earlier decades, women wore modest, long-sleeved dresses. Now, they started to wear sleeveless dresses with mesh cutouts. Flowing chiffon skirts were popular for ice dancers. Women began to wear dark-coloured tights and one-piece outfits like their male counterparts. Men started to wear glittery costumes. Russian skater Evgeni Plushenko wore dark gloves with outfits made of gold and silver lamé fabric. Each costume highlighted a skater's individuality.
In 1988, Marijane Stong broke with tradition. She designed a costume for ice dancer Tracy Wilson with black stirrup leggings instead of nude skating tights. This was a shocking new look.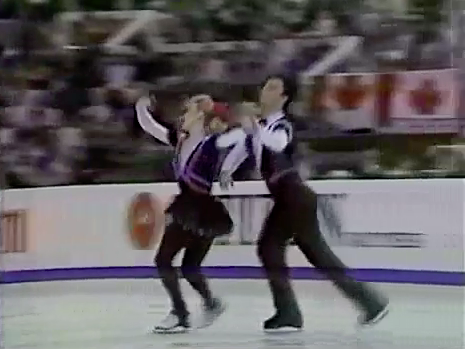 We have detected that your Javascript is disabled. We're sorry, the videos are not available without javascript.
Tracy Wilson and Rob McCall, pair of ice dancers, in black, white, and purple costumes perform a lively music box-style routine filled with unusual and unexpected moves, in an area filled with spectators.
Wilson wears black leggings.
Transcript:
[applause]
[lively, music-box style orchestra music]
Canadian coaches and choreographers often chose Canadian designers, tailors, and dressmakers to fashion costumes for their skaters. When Kurt Browning was training in Edmonton, Allison Yardley-Jones designed his costumes. Based in Calgary, she would travel to Edmonton to do fittings with him.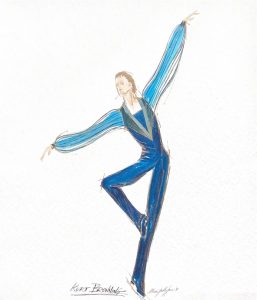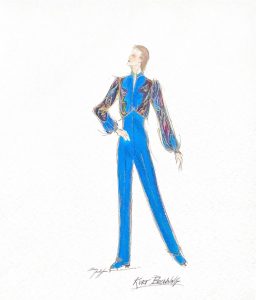 Now there was enough demand for skating outfits that they were available to buy off the rack. Skaters could now buy training and competition outfits at speciality skating shops.
Kurt Browning – A Showman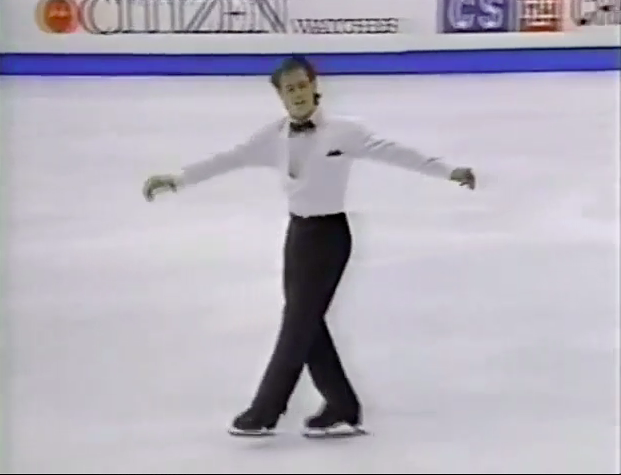 We have detected that your Javascript is disabled. We're sorry, the videos are not available without javascript.
Kurt Browning, in a formal black and white suit costume with a black bow tie and handkerchief gracefully skates, performing a split jump, footwork of turns in one direction and then a combination triple Salchow-double-loop jump.
A flying camel spin and a short twirl at the end.
Spectators watch in the background.
Transcript:
[Music: From the movie "Casablanca" score by Max Steiner, dramatic orchestra music]
A few years before the Kerrigan-Harding scandal gripped international attention, fashion designers started to create custom figure-skating costume designs for a few top skaters. Vera Wang, Ralph Lauren, and Christian Lacroix turned the ice into their own fashion runways as televised competitions reached a wide audience. Several top American and European champions had their costumes made by these designers.
These developments in costume enhanced skaters' ability to express drama and artistry on the ice, increasing their level of connection with the audience.
Soundscapes
Bizet's Carmen and Tchaikovsky's Swan Lake remained enduring favourites, but skaters used less and less classical music. Choreographers and skaters used film soundtracks and more experimental music choices. With a synthesis of choreography, costume, and music came a more theatrical performance.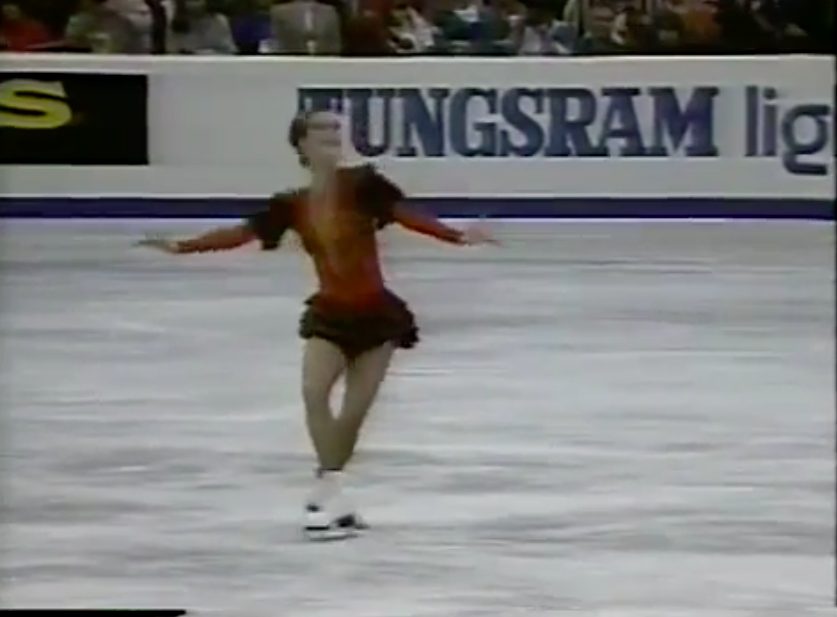 We have detected that your Javascript is disabled. We're sorry, the videos are not available without javascript.
Katarina Witt, in a black and red frilly costume, skates to Spanish music on the ice while spectators clap to the music in the stands.
Transcript:
[Music: George Bizet's "Carmen Suite: V. Carmen's Entrance and Habanera" by Orchestra of the Bolshoi Theatre]
[applause]
Singles and pair skaters were still somewhat limited in their choice of music. Approved by the ISU in 1997, ice dancers could use music with lyrics in their routines. Other skaters could not. 
The use of lyrics in music was not allowed for singles and pairs until 2014. It is interesting to note that at the 1988 Calgary Olympics, Kurt Browning skated to the song "Tequila" by The Champs. Although the word "tequila" is said several times during the song, not a single judge or commentator drew attention to it. The spoken word in the song did not cause Browning's performance to be penalized in marking.
Browning was something of a musical innovator. He chose much of his own music, sampling tracks by Phil Collins and even the drag queen Divine. He mixed his own program music using cassette tapes. 
Cassettes replaced vinyl records quickly. The portability of cassettes and cassette players meant that skaters and coaches could now bring their recorded music to practices, sometimes using a cassette player right down at ice level, rather than using the larger speaker system. 
These two decades also saw the rise of the CD and digital music production. CDs could hold more information and more music tracks in a very compact format.