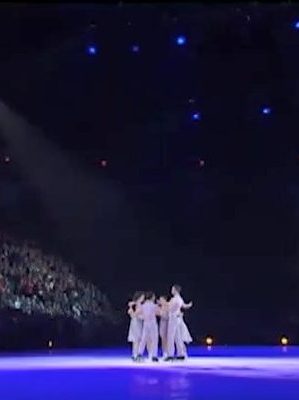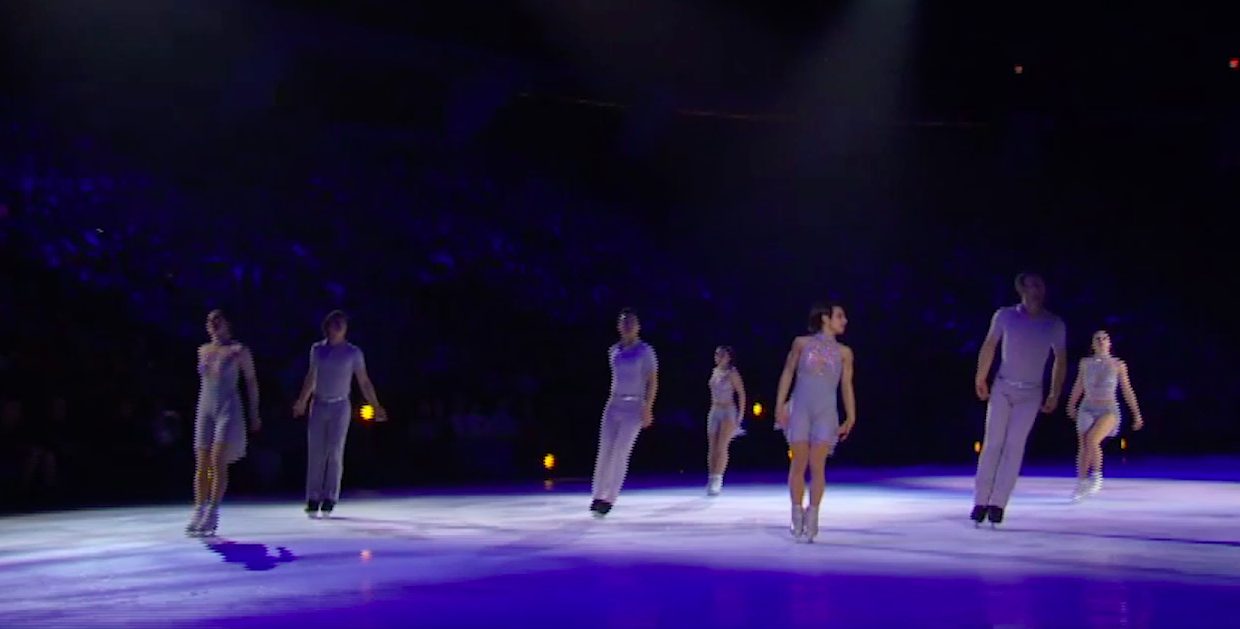 We have detected that your Javascript is disabled. We're sorry, the videos are not available without javascript.
The Gold Olympic Team Event skaters performing in an ice review "Stars on Ice" in a group number. The seven skaters are dressed in matching pale grey outfits. They are performing footwork, edges and arm movements to the music.
The spotlights create a blue hue on the ice with the skaters highlighted in a yellow hue.
Transcript:
[Music: Sting's "Fields of Gold" by Drew Holcomb & Ellie Holcomb]
Canada is a world leader in all aspects of figure skating. Canadian and international skaters train at Canadian facilities with renowned Canadian coaches. They wear Canadian-designed costumes, boots and blades, and they skate to music produced by Canadian music specialists. In this new age of globalism, cross-cultural exchange has skyrocketed. Skaters with dual citizenship can now represent different countries. 
The 2002 Salt Lake City judging scandal in the pairs competition has forced the International Skating Union (ISU) to replace the 6.0 judging system, and "The Code of Points" replaces the 100-year-old 6.0 system. The new system is designed to be more transparent. The one drawback is that it is complex for a general skating audience to understand.
While single jumps were considered challenging in the 1930s, quadruple jumps are now standard. Excelling in all events, Canadian skaters have raised the bar for future generations of figure skaters. 
The Canadian version of Stars on Ice and the reality television show Battle of the Blades have remained figure-skating fan favourites. 
With a new global interest in the sport, figure skating is set to enter a renaissance. 
CANADIAN GOLD CHAMPIONS ON THE WORLD STAGE!
Jeffrey Buttle, World Champion 2008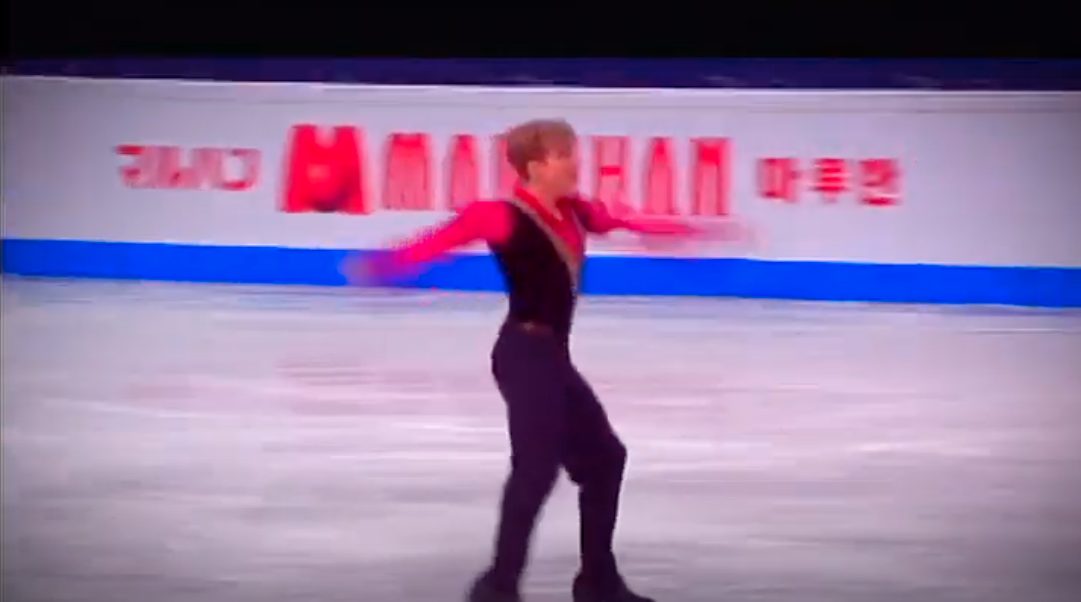 We have detected that your Javascript is disabled. We're sorry, the videos are not available without javascript.
Jeff Buttle, in a black and red costume, performs a montage of jumps and spins in video clips that are cut together, while an audience applauds in the stands.
Transcript:
[Music: created for Skate Canada's 2008 AGM Promo]
Perfection on the ice. A dream realized.
Patrick Chan, World Champion 2011, 2012, 2013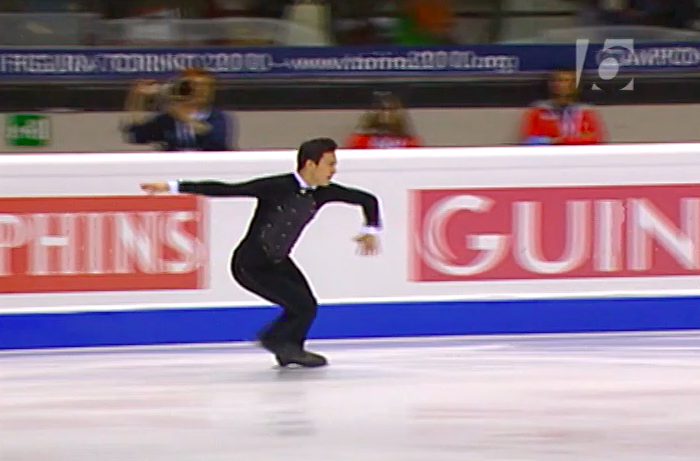 We have detected that your Javascript is disabled. We're sorry, the videos are not available without javascript.
Patrick Chan, in a black jacket and pants costume with white trim at the neck and sleeve cuffs, performs a routine filled with complex footwork, jumps and a travelling jump sit spin variation.
An audience watches and applauds in the stands.
Transcript:
[Music: "Phantasia (Based on 'The Phantom of the Opera') by Sarah Chang & Julian Lloyd Webber & The London Orchestra & Simon Lee]
Meagan Duhamel and Eric Radford, Pairs, World Champions 2015, 2016
We have detected that your Javascript is disabled. We're sorry, the videos are not available without javascript.
Duhamel and Radford, pair skaters, in matching blue costumes, glide across the ice in unison.
The male skater tosses his female partner in the air, who spins before landing gracefully on the ice.
Transcript:
[Music: Hometown Glory by Adele, soft, slow instrumental music]
Tessa Virtue and Scott Moir, Ice Dancing, World Champions 2010, 2012, 2017, Olympic Champions 2010, 2018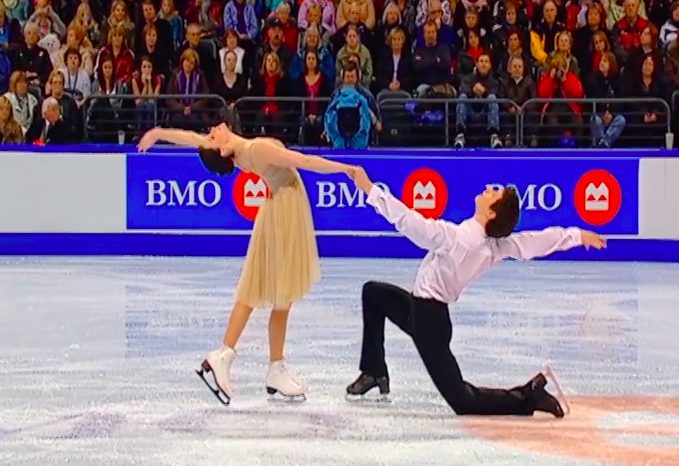 We have detected that your Javascript is disabled. We're sorry, the videos are not available without javascript.
Pair skaters Virtue and Moir perform a slower, graceful routine while an audience watches from the stands.
They start out standing and circling around each other, interpreting the music, before they even begin to skate.
Transcript:
[Music: "Symphony No. 5 in C-Sharp Minor: IV. Adagietto. Sehr Iangsam" by Gustav Mahler – London Symphony Orchestra & Rudolf Schwarz]
Kaetlyn Osmond, World Champion 2018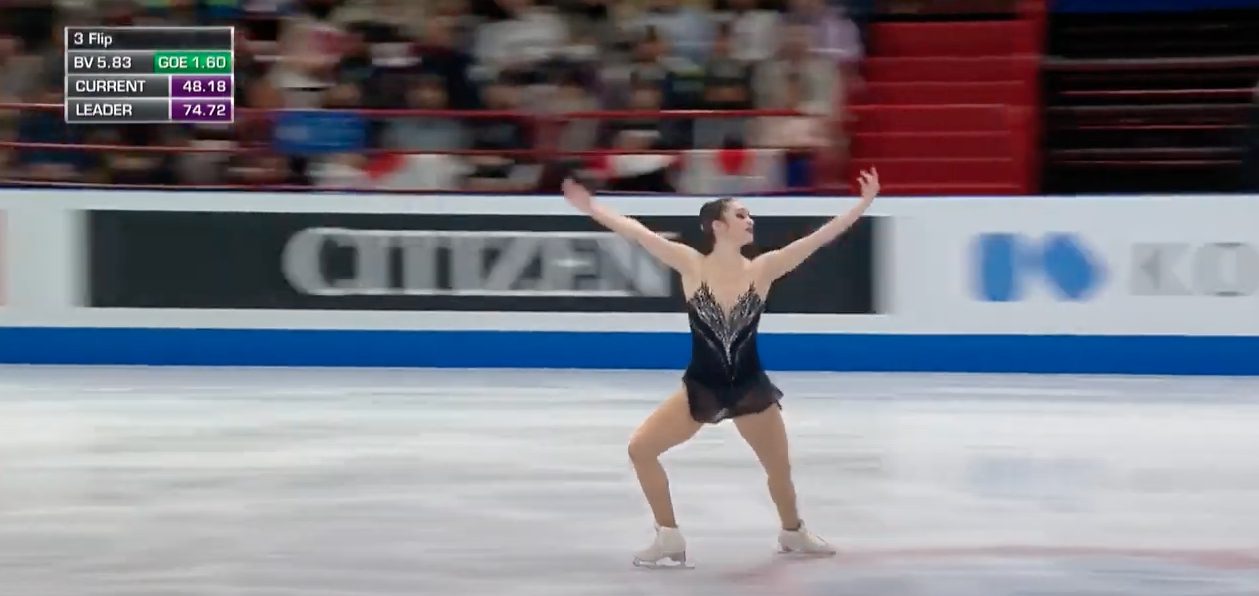 We have detected that your Javascript is disabled. We're sorry, the videos are not available without javascript.
Kaetlyn Osmond, in a sparkly, black costume, performs a series of combination jumps and spins on the ice while an audience watches in the stands.
Transcript:
[Music: "Stumbled Beginnings" by Clint Mansell, Black Swan Soundtrack]
Olympic Team Event
A team event debuted at the 2014 Olympics. Team Canada won the silver medal in 2014, followed by a gold-medal win in the 2018 Olympics. The event consists of two segments: qualification and finals. During qualification, each team presents one men's single skater, one women's single skater, one pair, and one ice-dance couple to skate their short program/dance. Then each team is allowed to replace up to two skaters or couples. The final skate consists of each single or couple performing their short program/dance. 
TEAM CANADA WON THE SILVER IN 2014 AND THE GOLD MEDAL IN 2018
Olympic Team Event, Olympic Champions 2018, team members: Patrick Chan, Kaetlyn Osmond, Gabrielle Daleman, Meagan Duhamel and Eric Radford, Tessa Virtue, and Scott Moir 
We have detected that your Javascript is disabled. We're sorry, the videos are not available without javascript.
A group of skaters, half male and half female in matching grey costumes, perform a group routine while spotlights follow their every move.
At the end, they are announced as the winners of the Olympic competition.
Transcript:
[Music: Sting's "Fields of Gold" by Drew Holcomb & Ellie Holcomb]
[applause]
Ladies and gentlemen, your 2018 Olympic team gold medallists from Canada.
[applause]
Jackson Ultima, a Canadian story
Jackson Ultima, owned by Tournament Sports, evolved into a world-famous brand during this period. They built a complete skate using cutting-edge technology to develop both new blade and boot styles. These "complete outfits" are popular among top skaters.  
Since the early 2010s, Tournament Sports has used digital technology to create custom-molded skating boots. Using heat-moldable plastics, they are able to create a 3D replica of a skater's foot. This plastic "last" is then custom-fit with a leather upper to make a truly custom boot. 
Currently, Jackson Ultima is exported to many countries. Over 70% of their sales are international, with the remaining 30% in Canada.  
Tournament Sports uses new metal alloys to create lighter blades. There are four different blade levels: introductory, specialty, legacy, and advanced. Ultima blades are known for their lightness and superior performance. 
What are elite skaters wearing?
Blades
Today, MK and John Wilson manufacture blades using carbon-composite technology. Wilson's Gold Seal Revolution and Pattern 99 blades are favoured by top skaters for their lightness. Lighter than a standard blade, this technology is designed to improve jump take-off, allowing the skater to jump higher.
Boots
The new trend in bootmaking is to use artificial materials. These new synthetic materials are easier to break in than leather due to their engineered flexibility. Microfibre in particular is exceptionally lightweight; many boot manufacturers use this material. 
Boot brands like Edea, Riedell, Graf, Gam, SP-Teri, Risport, WIFA, Harlick, and Jackson are all popular among top skaters. 
When did the Code of Points system replace the 6.0 system?
When did the Code of Points system replace the 6.0 system?
The new judging system was developed in 2004 and took effect in 2006.
Canadian Judge Ann Shaw
Listen to Ann Shaw explain how she became an international skating-competition judge with the ISU. She was involved in and witnessed many changes in the evolution of skating competitions and judging systems over the years.
I'm Ann Martin Shaw. I started skating at the age of seven at Silver Blades Skating Club in Toronto. I then moved to the University Skating Club which really featured ice dance – that's when my love of ice dancing really began – and judged from the age of sixteen, judged tests and competitions from that point and continued until I was seventy-four years of age, but I had to stop international judging at the age of seventy because that is the mandatory retirement age for judges. I also competed in ice dance with two different partners in 1959 World's with Eddie Collins and came 5th, and in 1960 World's with Gilles Vanesse and came 6th, so my background in skating is a long one and my love of the sport continues to this day.
I also was elected to the International Skating Union as a member of the Ice Dance Technical Committee and sat on that committee for fourteen years. That involved writing the rules for the sport, giving seminars all over the world – I think I gave seminars in thirteen countries, but many times in various countries – and also was involved with Skate Canada. I eventually was the Vice President of Skate Canada for several years but got too busy with the ISU and had to back out of that, and my profession is a High School Teacher and I had to retire from high school teaching to pursue my love of the sport.
The Old "6.0" Judging System
Listen here as Ann Shaw describes the old 6-point judging system.
The old 6.0 judging system really began in the late 1800s and was used from that time until 2006, so it was used for a long time. But by the late 1900s it was felt to be inadequate, really. Skating had become far more complex, it was too subjective and not objective enough, and it was also felt to be too easy to manipulate. And so, criticism started to rain down on it and criticism really peaked starting in 1998 in Nagano at the Olympics and it really took off in Salt Lake City, Utah, for the Olympics in 2002 when a judging scandal broke out and rocked the sport, really. I was put on an ad hoc committee at that time right at the Olympics in Salt Lake City to start to create a new judging system. And so, we worked on that for many years, and it was eventually adopted by the congress of the International Skating Union in 2006.
In the old 6.0 system we had a panel of up to nine judges and they awarded two marks on a scale of 0 to 6.0, and you could give a 5.5 or a 4.5 or a 2.5 or whatever you needed to do. You gave the two marks, one for technical merit – and that was the difficulty of the program, and the elements that were in it, and the variety of the program, and the cleanness and sureness of the skating and the edge quality – and really all of that had to do with the quality of the skating. The second mark we gave out in those days was for artistic impression under the 6.0 system, and that was the composition and conformity to the music chosen (essentially choreography), timing, expression, style, and in the case of dancers and pairs skaters, the unison of the teams, their oneness, the matching of their legs and their body lines and things like that.
The two marks were added, and the totals given out by the judges had to rank the skaters from one to thirty or however many competitors you had in the event, so you gave eventually through your marks – the total of your marks – a 1st, a 2nd or a 30th, whatever you needed to do. The majority of those ordinals from each of the judges had to decide who was 1st, 2nd, 3rd in a majority count so if you had five 1st's, two 2nd's and three 3rd's, no one else had a majority of five firsts, and our marks were displayed in lights under our country – Canada if it was an international event – and it was really a mathematical challenge for judges to figure out who they had 1st to 30th, it really meant a lot of hard work on the part of the judges to get people in the order they felt they deserved to be in.
In the old system, each judge graded all aspects of the performance. The judge would observe, grade and calculate the ordinals for each skater. It was all done by hand. See the documents below for an example of the documents in the process.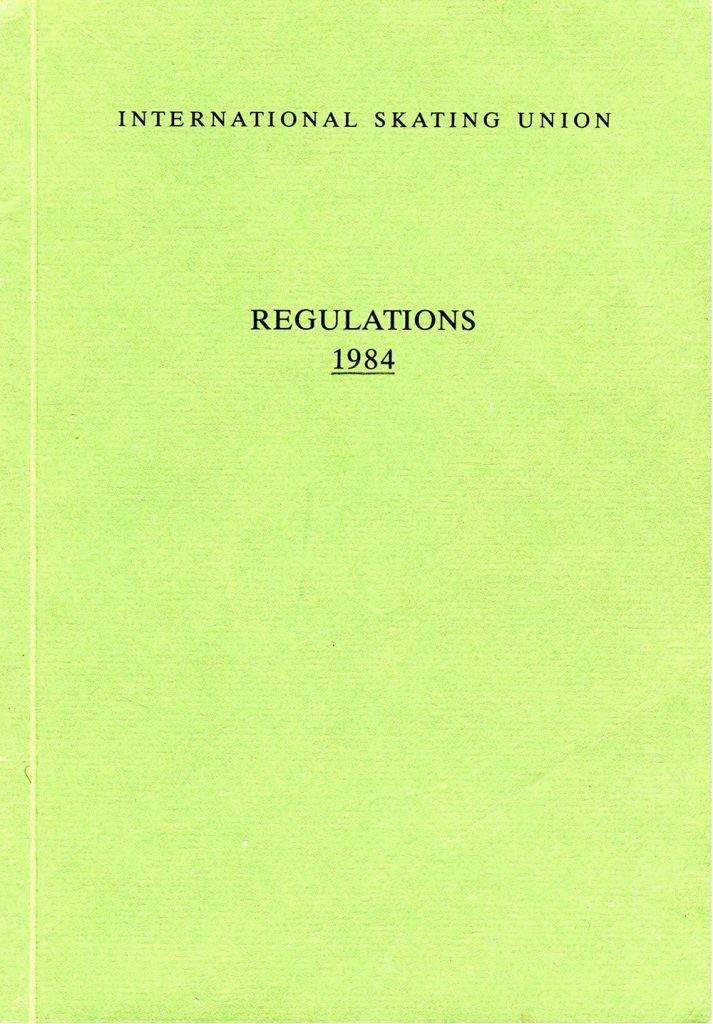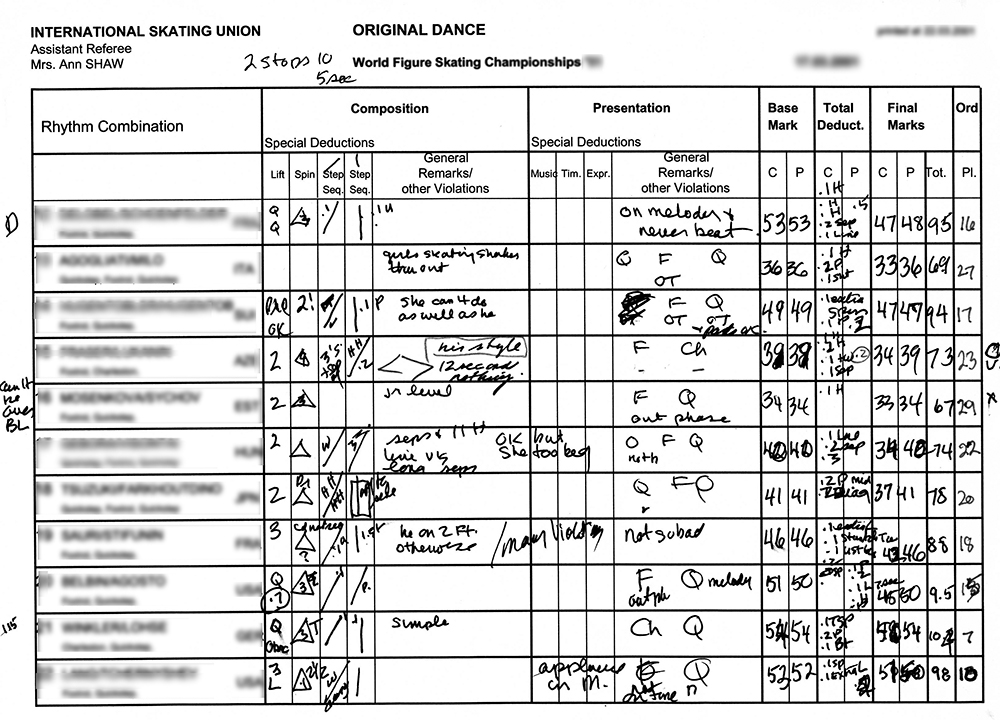 Ann Shaw describes her involvement with the new judging system and her role in developing it.
The new judging system, sometimes called the Code of Points, breaks up the assessment in a number of ways so there is more measurement. First of all, and mainly, there are two panels, not just one as in the old 6.0 system. One panel is called the Technical Panel and the second panel is the Judging Panel. The Technical Panel is comprised of three people, two of whom are usually coaches. They assess the level of the elements that are performed – the jumps, the spins, lifts in the case of pairs, step sequences – and give them a base value for those elements, that's all they have to do. They have slow motion replay, and they have criteria for assigning the levels of the elements up to a level of four. The Judging Panel consists of seven to nine people depending on the quality and level of the event, and they have to give a lot more marks out. The first set of marks are given out after each element is completed and that's called the Grade of Execution, and they are from a value of +5 down to a value of -5 – this is for the quality of the element that is performed. And they too have rigid criteria for ascribing a +5 or a -3 or whatever they give. The factored average of all the judge's GOE's is added to the base level the Technical Panel gave, and that's the total score for each element for a skater. The judge also has to give out five marks for program components. They are skating skills, transitions, performance, choreography and timing interpretation, and those marks are out of ten and they are given after the program is completed.
For the judge, there is now – unlike in the old 6.0 system – no need to assess the elements, how many quads or triples were in the program, they don't have to add their marks, they don't have to rank using those marks to find the ordinals of placement. The computer does the work for them one they've entered all these marks and brings out a total score for each skater. The skaters benefit because in the printouts they see what they have done well, what they have done badly and what needs improvement. And the judge is far more accountable for his or her actions because they have to give up to twelve, maybe, GOE's and also five component marks so the fact that they give so many marks, their errors are very visible, and national bias is also very visible. The system then, I think, is fairer to the skaters and accounts for much better judging and assessment than the old system, even though we all tried very hard to do well under the old system.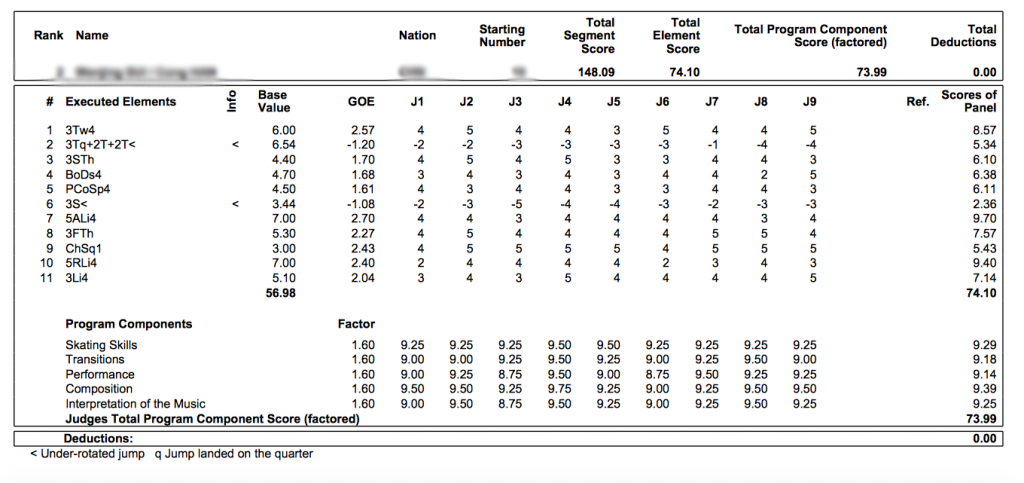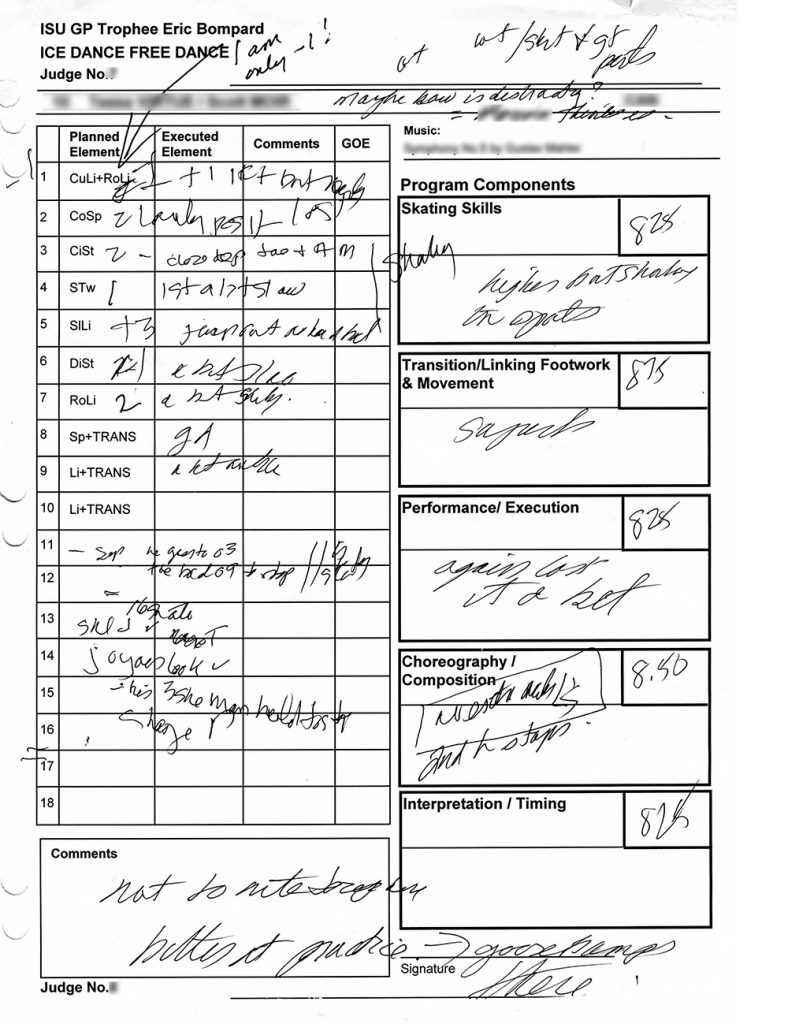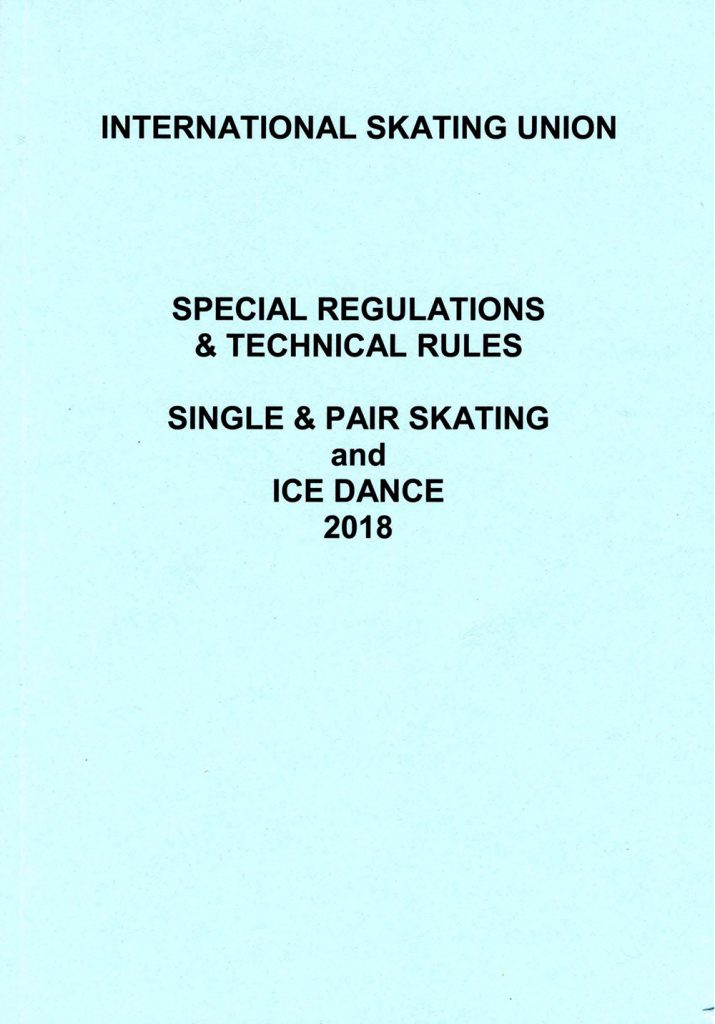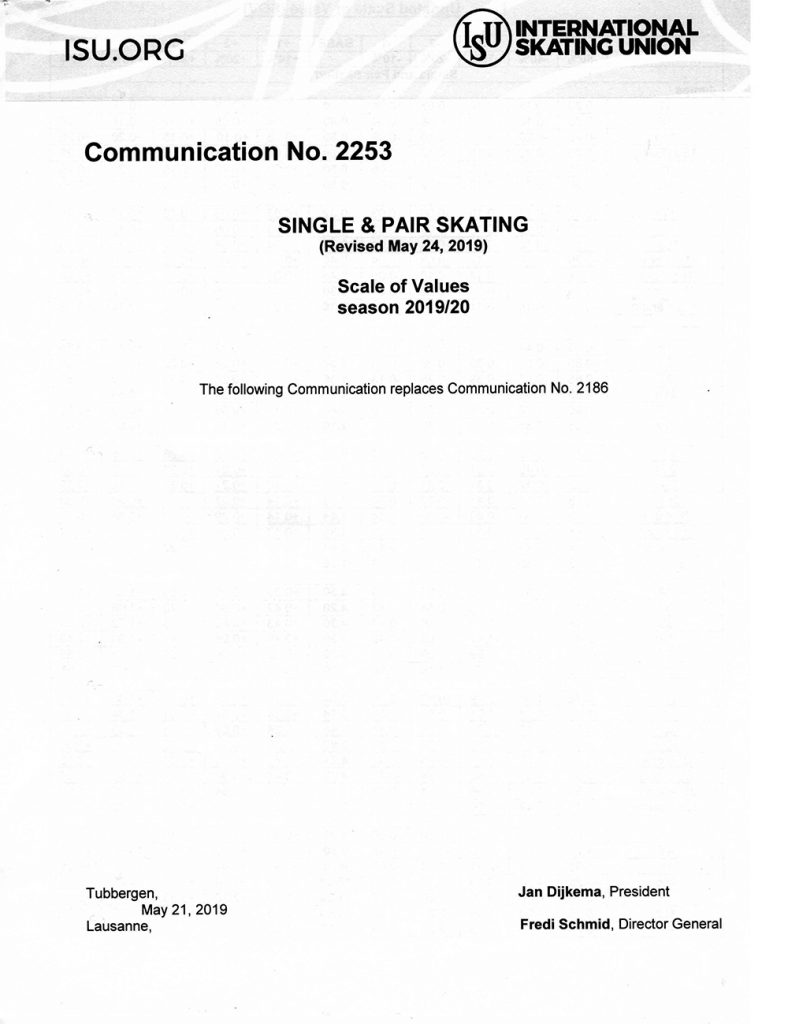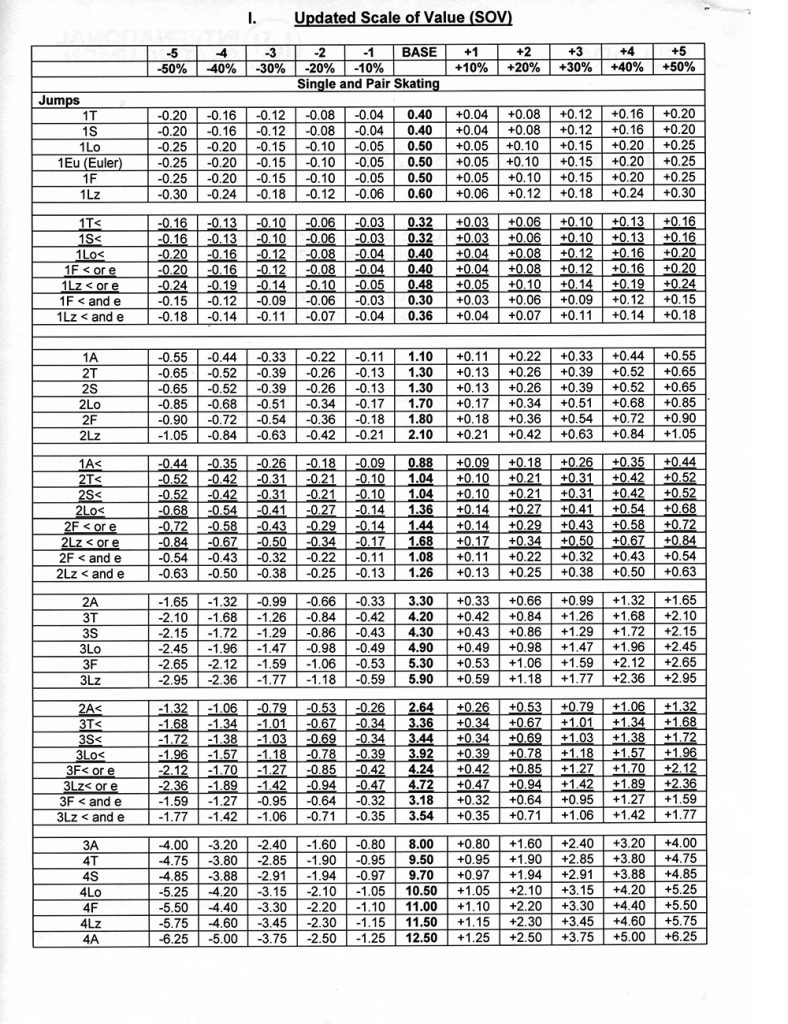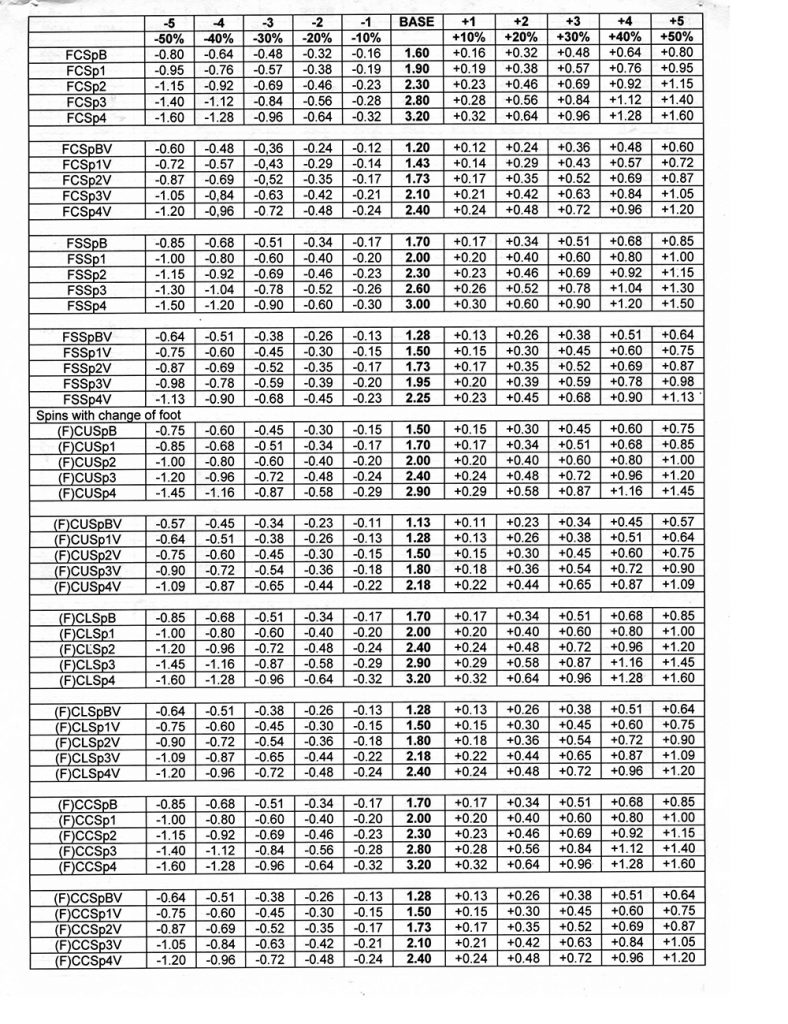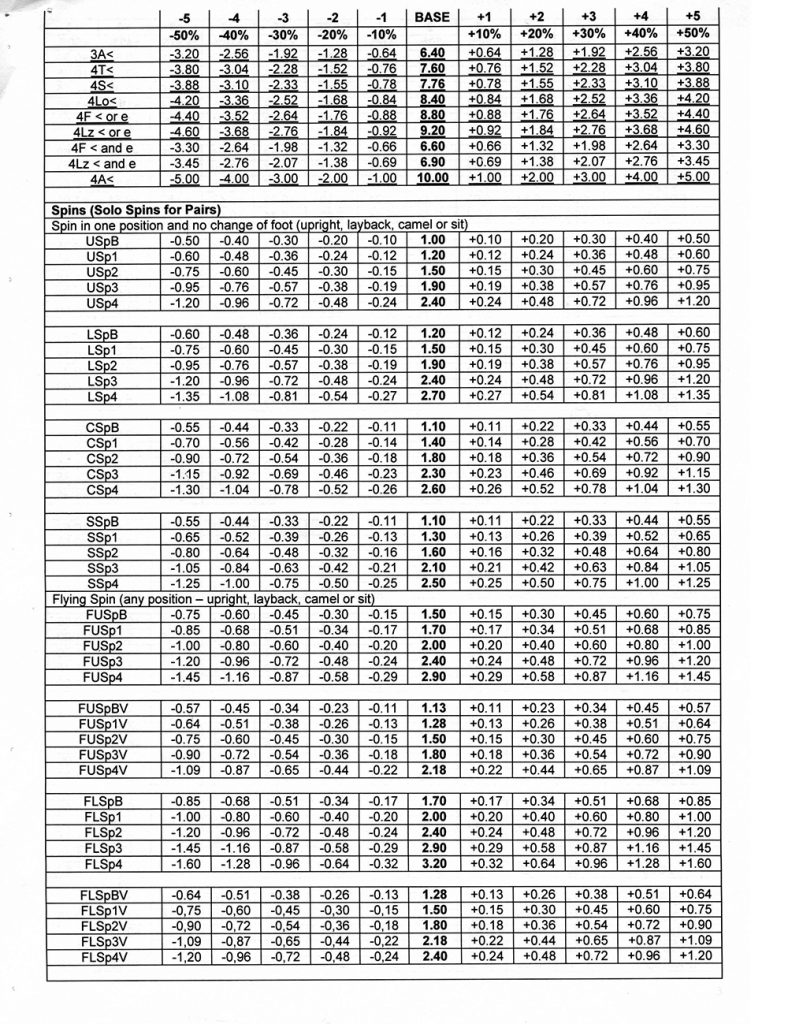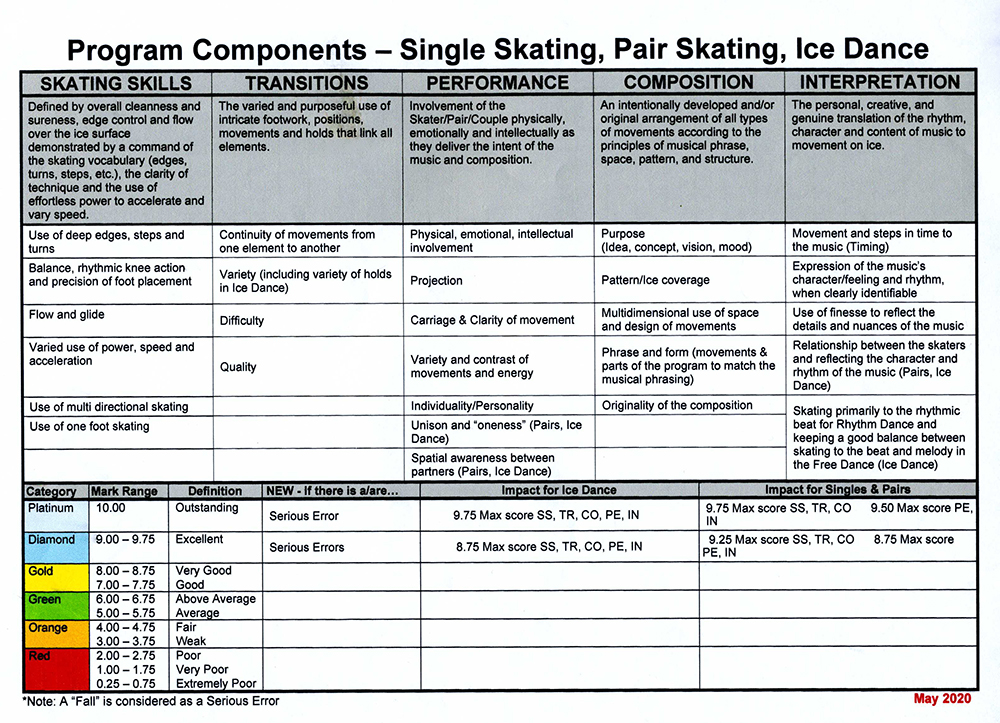 Which Canadians are the most decorated skaters in history at the Olympic Winter Games?
Which Canadians are the most decorated skaters in history at the Olympic Winter Games?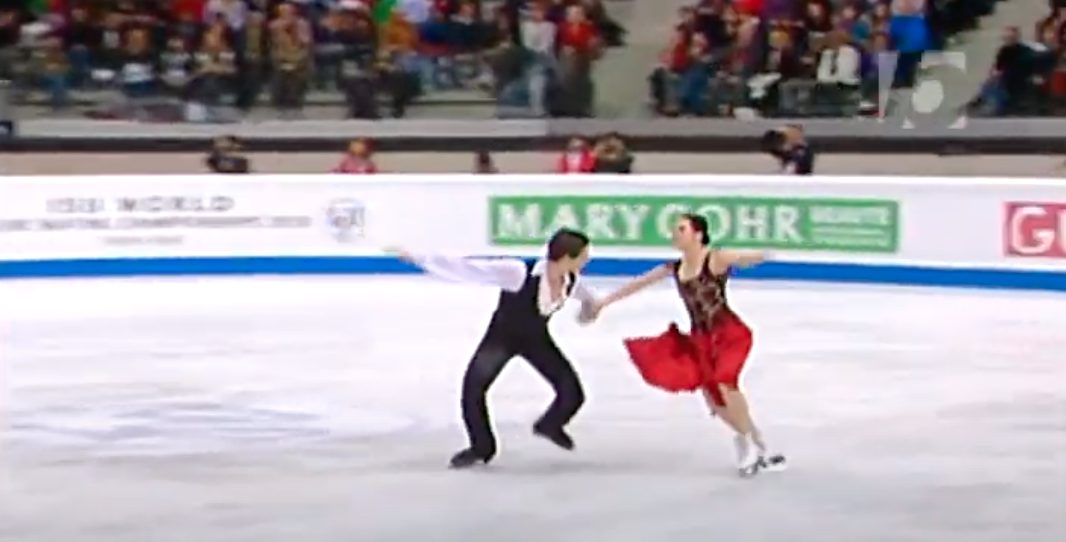 We have detected that your Javascript is disabled. We're sorry, the videos are not available without javascript.
Virtue and Moir, an ice dance pair, perform an original Spanish Flamenco routine while an audience watches in the background. She wears a full circle skirt in red that she uses as a prop to accentuate their movements. Transcript: [Music: "Farrucas" by Pepe Romero, Chano Lobato, Maria Magdalena & Paco Romero]
Tessa Virtue and Scott Moir hold the record for winning the most skating medals at the Olympics. They have won a total of five medals, including two golds in ice dancing and one team event in gold.
Skating Options For All
Whether beginners or competitive athletes, figure skaters now have a variety of programs to choose from to hone their skills. A number of world-class arenas and rinks dot the country. 
Beginners
Skate Canada's CanSkate is one of the country's most popular programs. It remains the best for those wanting to learn how to skate. This graduated, level-based program encourages the development of figure-skating skills in anyone new to skating, be they newcomers to Canada, adults with a disability (AWAD), children or adults.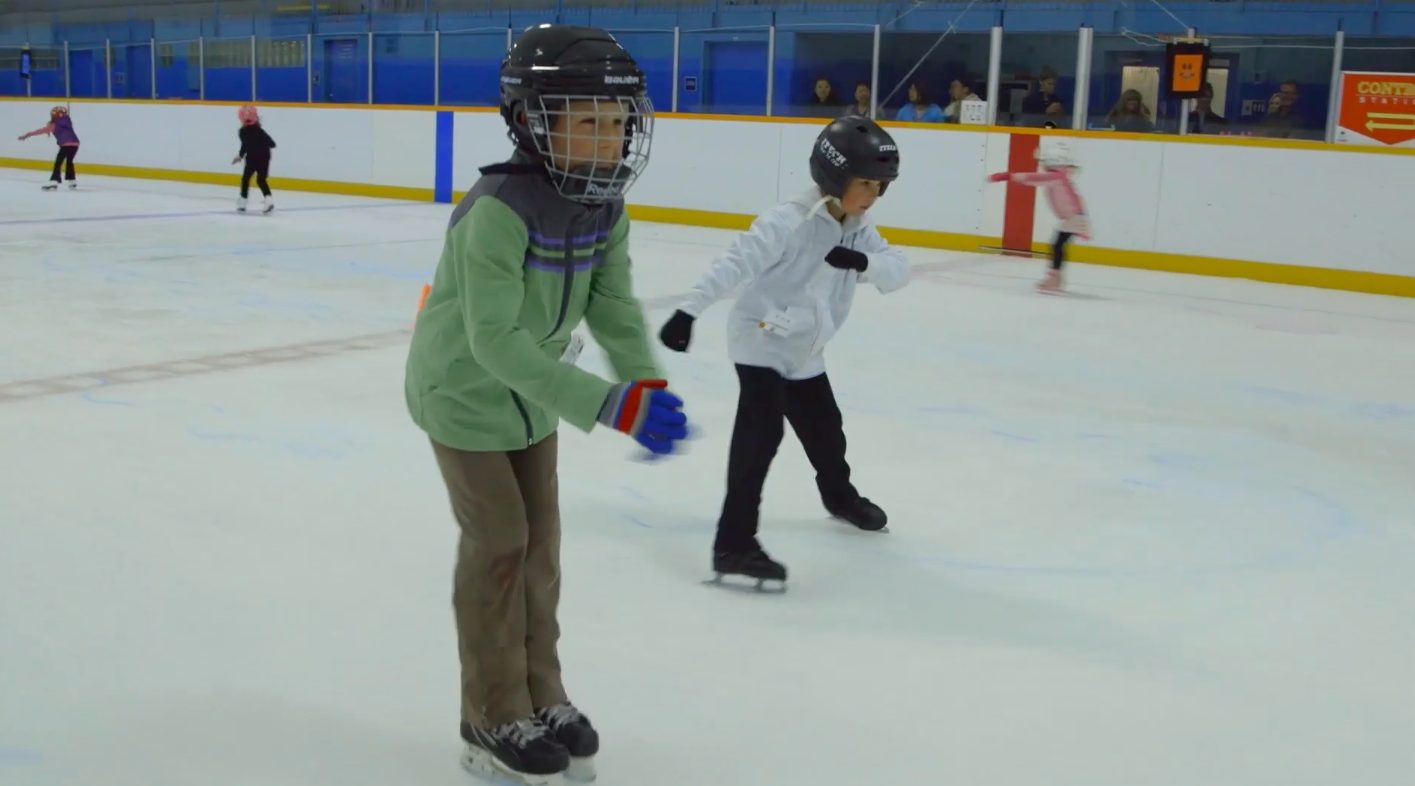 We have detected that your Javascript is disabled. We're sorry, the videos are not available without javascript.
A video montage that flips between children learning to skate, and hockey players and figure skaters discussing the Can Skate program.
The children are shown skating around pylons doing forward skating and sculling and other learn-to-skate movements.
Transcript:
[Music: upbeat instrumental music]
Sign up for Can Skate, I think. As a young kid, I think that's the best way to start. And then you move more towards hockey-specific things, and you know, a way you go.
Skating isn't just about jumping, it isn't just about spinning, it's also about the skating aspect, so my message is it's important to keep doing it.
It all comes back to the basics and it's all those fundamentals that we learned in Can Skate.
CanPowerSkate is a complementary program to CanSkate. The program is geared toward beginner hockey and ringette players, emphasizing balance and agility. 
Figure Skating: The STAR Program
The STAR 1-5 program offers an exemplary Canadian figure-skating curriculum, targeting athletes looking for a future in the sport. The STAR 6-Gold program that follows it is an assessment and event structure for skaters who have completed the STAR 1-5 program. From here, the skater can become involved in the full range of skating disciplines.
The sport of figure skating is divided into four distinct disciplines:
Singles
Single skating is a term used to describe the discipline of free skating, the most recognizable form of figure skating. Free skating involves one person and incorporates many intricate movements. 
Pairs
Pair skating involves two individuals performing free-skating movements, including death spirals, lifts, and throw-jumps. 
Ice Dancing
Taking cues from ballroom dancing, this skating style involves two individuals and incorporates athleticism and musicality in equal measure. 
Synchronized Skating
Synchronized skating is a discipline open to all. Synchronized skaters perform in groups of eight to 20. Skating as a single unit, the skaters weave intricate patterns across the ice in unison.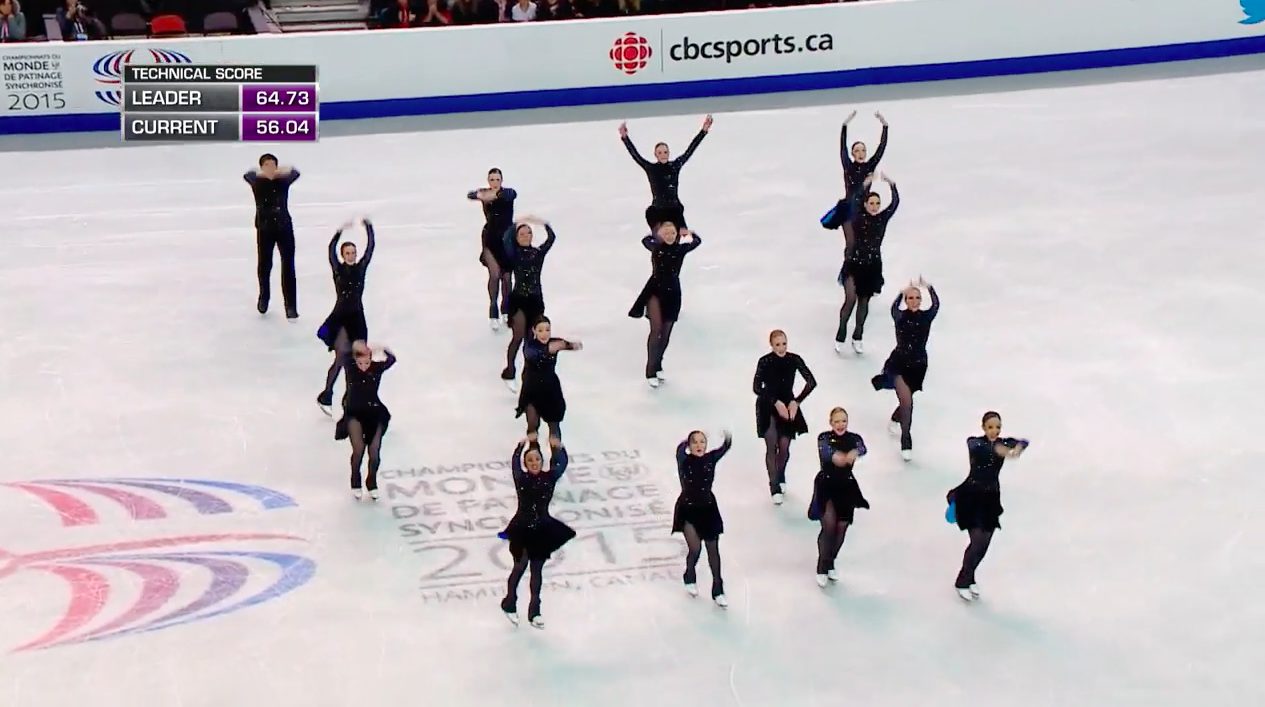 We have detected that your Javascript is disabled. We're sorry, the videos are not available without javascript.
A group of figure skaters, in matching black and blue sparkly costumes, performs a synchronized routine on the ice while an audience applauds and waves Canadian flags in the stands.
After the routine, the group takes a bow and receives their results.
Transcript:
The next team to skate, please welcome Team Canada!
[applause, cheering]
[Music: "Gershwin, Rhapsody in Blue (Excerpt)" by Arthur Fiedler, Boston Pops Orchestra, Earl Wild, Pasquale Cardillo & Various Artists]
Ladies and Gentlemen, Team Canada One!
Ladies and gentlemen, once again, we'd appreciate it if you please do not throw items on the ice, thank you.
[music playing]
[applause]
The scores please.
The pre-program score, one hundred and forty-three point six seven, with a total score of two hundred and fourteen point seven three.
Team Canada One is currently in first place.
Reality Television and Touring Shows
The popularity of competitive reality-television shows like American Idol and So You Think You Can Dance soared in the early 2000s. The skating world's answer to this trend has been the Canadian reality show and competition Battle of the Blades, produced by Sandra Bezic. The competitors are judged by Kurt Browning and other professionals from the skating and hockey worlds using the old 6.0 judging system. One hockey player and one figure skater make up each team. The teams perform pairs-type routines. The winning team's prize money goes to charity. Battle of the Blades debuted in 2009, running for four seasons until 2013. The show was revived for fifth and sixth seasons in 2019 and 2020.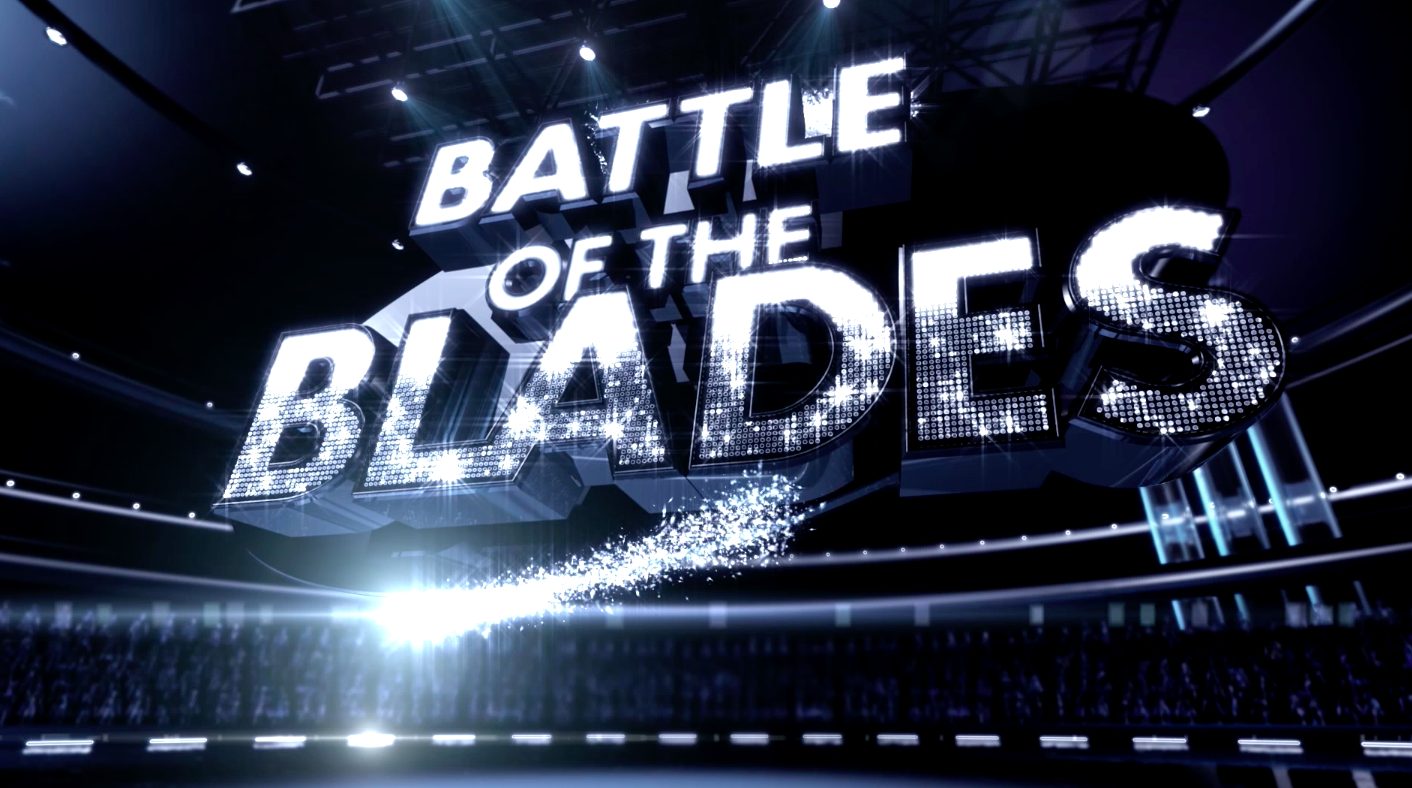 We have detected that your Javascript is disabled. We're sorry, the videos are not available without javascript.
A montage of scenes, showing paired hockey players and figure skaters doing amazing moves and formations on the ice, advertises the television show, "Battle of the Blades."
Transcript:
Welcome to the Battle of the Blades!
[upbeat instrumental music]
The touring live show Stars on Ice has remained a favourite of figure-skating fans around the world since its inception in 1986. The show is held annually and tours throughout North America and Asia. Canadian skating greats like Kurt Browning, Elvis Stojko, Meagan Duhamel, Eric Radford, Patrick Chan, Kaetlyn Osmond, Tessa Virtue, and Scott Moir have toured with the Canadian edition of Stars on Ice in recent years.
The Revival of Fancy Skating
The year 2021 marks the seventh anniversary of the World Figure and Fancy Skating Championships. Not seen in competition or elsewhere since the late 19th century, this revival of "fancy skating" has brought back the pattern-cutting moves that were popularized by Canadians Louis Rubenstein and George Meagher from about 1850 to 1890. 
Today, competitions of the revived style are held in the United States; the competition is open to competitors globally. This is the only competition to be held on black ice, which means that the artistic tracings of fancy skating can easily be seen. When a skater performs a new etching, the pattern is catalogued so other fancy skaters can learn new tracings. In the creative composition category, skaters use their artistic skills to create inventive new patterns on the ice.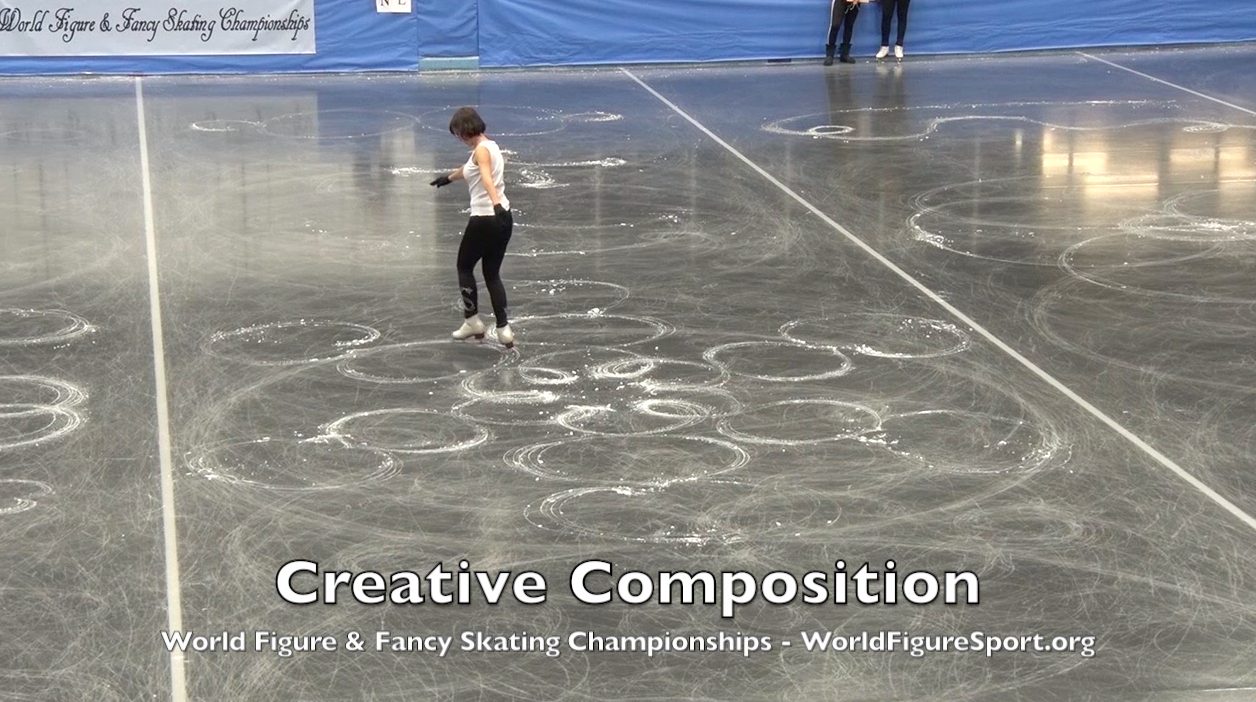 We have detected that your Javascript is disabled. We're sorry, the videos are not available without javascript.
Lisa Elmore, in black leggings and white tank top, carefully and slowly skates in circles and figure eights on the ice.
She leaves tracings closely grouped that show her path on the ice; circles and loops.
Transcript:
[Music: Background music for World Figure & Fancy Skating promo based on "Traveler" (theme music from the foreign film) by Nel Deacon]
Here's Lisa Elmore, attempting to become the first female Canadian to capture the World Figure and Fancy Skating Championships title.
Here's her inside change of edge, to this outside crosscut, to the change of edge, to the forward inside counter to the back inside bracket.
The creative composition expands skating knowledge.
Change of edge, inside crosscut, change of edge, outside counter, back outside bracket, she still has her fancy skate composition to go, but Lisa Elmore, that was fantastic!
Global Coaches and Choreographers
Coaches now co-ordinate and project-manage all aspects of a skater's training and competitive experiences.
Many competitive skaters have gone on in their careers to become choreographers. Using their knowledge of the sport, they work with skaters to choreograph routines that showcase their artistic and athletic prowess. 
Both coaches and choreographers are adapting to the challenge of creating routines, given the complexities of the Code of Points system. Brian Orser, Sandra Bezic, Shae-Lynn Bourne, Kurt Browning, Jeffrey Buttle, Pasquale Camerlengo, Samuel Chouinard, Marie-France Dubreuil, Patrick Lauzon, Julie Marcotte, Lori Nichol, Mark Pillay, Ravi Wali, David Wilson, and Tracy Wilson are some of the coaches and choreographers who teach champions. They work together with students from Canada, the United States, Japan, Spain, South Korea, China, and Russia. 
Coaches and choreographers alike have harnessed the flexibility of the virtual classroom, using videoconferencing technology to teach and create.
The Challenge of Attire
For performance and competition, costume can bring out theatrical expression and reflect the choice of music. Skaters are free to select their own outfits for domestic competitions under the Skate Canada regulations. Costumes for Canadian competitions are gender-neutral; competitors may wear skirts, dresses, pants or tights. The costumes, however, may not be too revealing or garish, and accessories, props, and nude-illusion fabrics are not permitted. If decorations on the costume fall on the ice, a deduction will be made to the skater's mark.
A costume is by no means inexpensive. A professional, custom-made costume can set a skater back thousands of dollars. Several Canadian skaters have turned to costume design. Quebec's Josiane Lamonde and Mathieu Caron have been passionate about creating clothing for skaters. Both design costumes for Canadian and international champions, including Kaetlyn Osmond, for example.
For skaters who do not need custom costumes, purchasing ready-made outfits is possible. Many skating retailers now stock ready-to-wear costumes.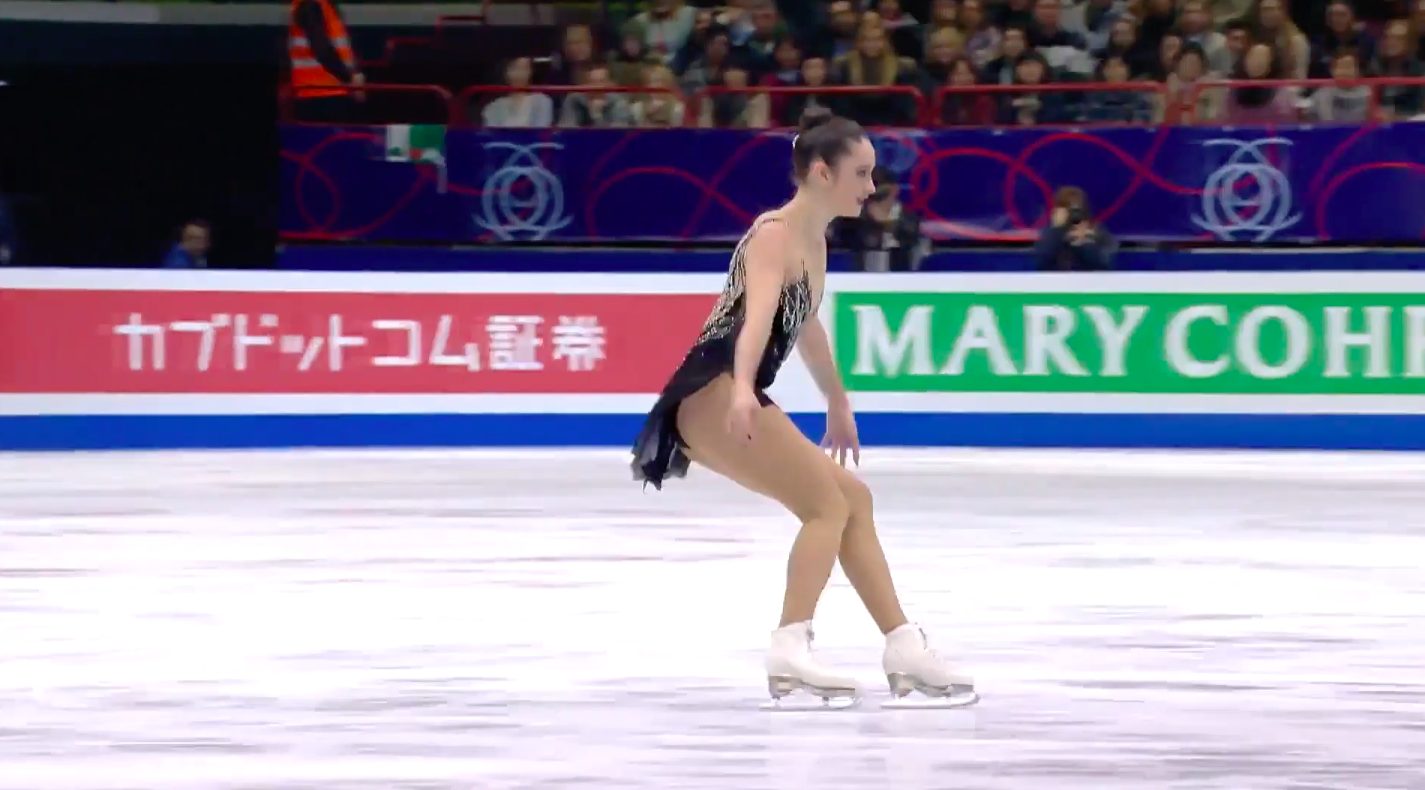 We have detected that your Javascript is disabled. We're sorry, the videos are not available without javascript.
A video montage featuring close-ups of Kaetlyn Osmond skating on ice in a sparkly, black costume that looks like it is strapless from the front.
It ends in a slow-motion look at the front of her dress and face makeup.
Transcript:
[Music: "Nina's Dream" by Clint Mansell, Black Swan Soundtrack]
Digital Music
Skating music has come a long way since the sounds of live military bands wafted over the ice. Working with music composers, designers, producers, and sound mixers, skaters can make more creative musical choices. 
Since the 2014 Sochi Olympics, figure skaters have had the option to include music with lyrics for their competitive programs. Hip-hop, pop, and film soundtracks have edged out more traditional compositions since then. Original music is a popular choice; pair skater Eric Radford, turning to his skills with musical composition, created the original piece "A Journey" for one of Patrick Chan's short programs.
Music specialists and sound mixers are in high demand. For example, Hugo Chouinard, a former skater turned music designer, created his company sk8mix to provide music research, composition, editing, and mastering for skaters all over the world. Choreographer and coach Lori Nichol works with music consultant and editor Lenore Kay, who has an ear for choosing dynamic pieces for skaters. 
The Moulin Rouge film soundtrack is one of Chouinard's favourites, and here are Tessa and Scott skating to his music mix.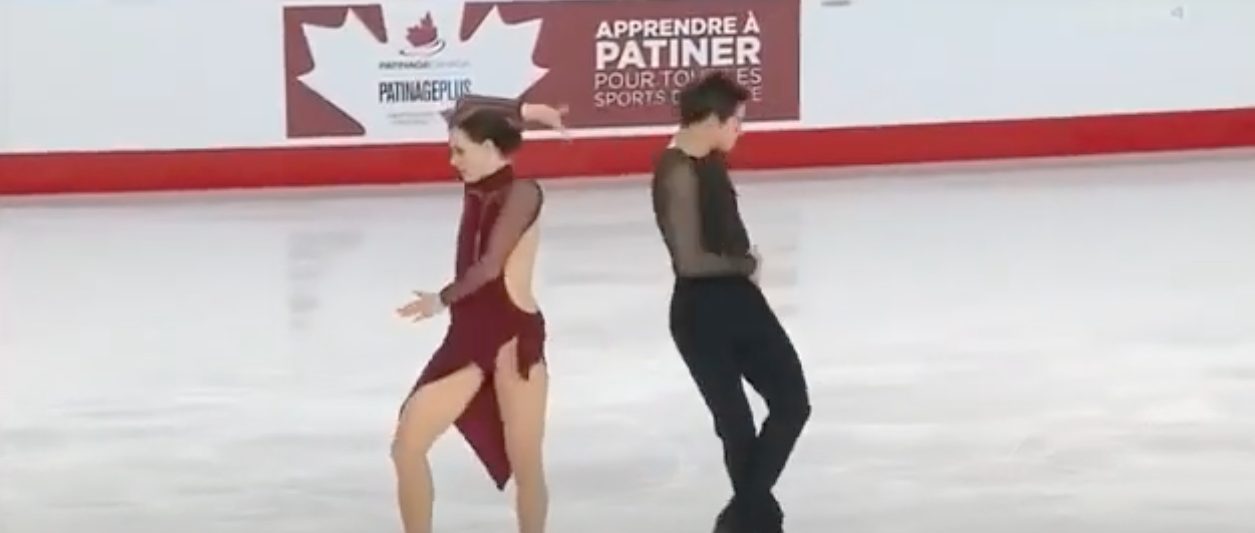 We have detected that your Javascript is disabled. We're sorry, the videos are not available without javascript.
Female skater, Tessa Virtue, in a burgundy costume, and male skater, Scott Moir, in a black costume, flawlessly dance and spin across the ice in unison.
An audience watches in the stands.
Transcript:
[Music: "El Tango De Roxanne" (From "Moulin Rouge" Soundrack) by José Feliciano, Ewan McGregor & Jacek Koman]